South African Airways 'is on verge of bankruptcy'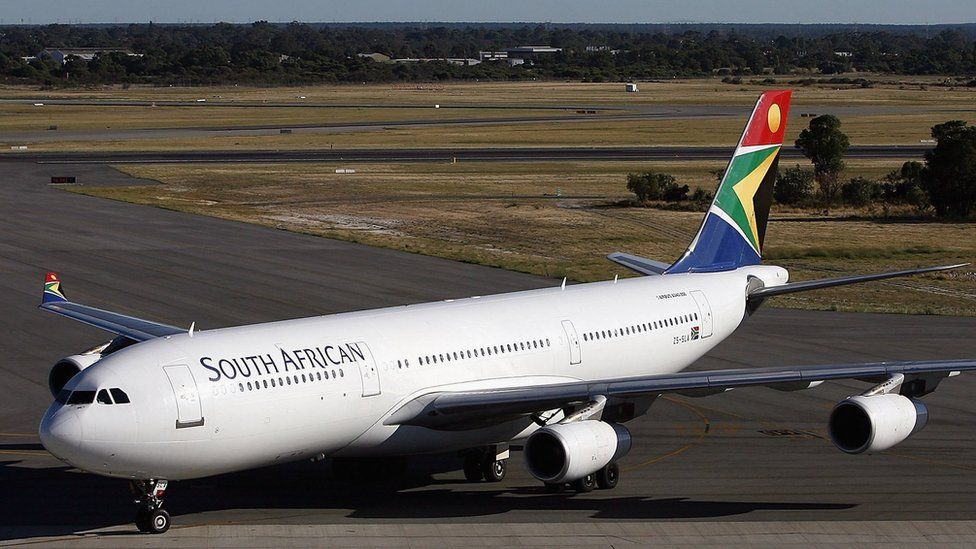 South African Airways (SAA) has run out of money and is teetering on the edge of bankruptcy, according to information given to the country's parliament.
It is thought the national carrier may soon be unable to pay salaries.
The cash-flow statement shown to MPs and seen by the BBC paints a picture of an airline haemorrhaging cash.
It says that matters may improve by October, but only if it gets a 792m-rand (£45m) bailout from the government.
Even then, the situation is expected to deteriorate again by December with a forecast cash outflow in that month of £38m.
The airline has lost money in each of the past seven years. Acting chief executive Musa Zwane, who has led the company for the last 18 months, has been trying to put together a recovery plan since January.
Last month, the Treasury paid out £125m to settle a loan from Standard Chartered Bank' which the bank had refused to extend.
South Africa's Finance Minister, Malusi Gigaba, has disclosed that SAA asked the Treasury in March for a £560m recapitalisation. He is expected to give an answer by October.
Alf Lees, the deputy finance spokesman of the opposition Democratic Alliance, said: "Essentially they are insolvent and should have filed for liquidation.
"We believe that the directors are in breach of the South Africa companies act by continuing to trade recklessly knowing that SAA will not be able to meet its financial commitments and without any guarantee that the shareholder (the South African government) will be prepared to continue to bail them out."
In 2015, consultants Ernst & Young presented a report to the government into 48 of the largest contracts awarded by SAA. The report showed that 28 of them, or 60%, were improperly negotiated, poorly contracted or weakly managed.
The airline is also facing pressure from its unions. The National Union of Metalworkers of South Africa (NUMSA) and the South African Cabin Crew Association (SACCA) are planning a march on Friday to SAA's Johannesburg headquarters.
An NUMSA spokesperson said: "Corruption at SAA is rife, it's clear that the state owned entity is being looted.
"The report by Ernst & Young paints a picture of rampant mismanagement, fraud and corruption. SAA has lost billions because of tender irregularities."
The unions are also threatening strike action over pay, claiming that pilots have been getting generous pay awards while cabin crew, ground staff, cargo staff and technical staff have been refused wage rises.