From successful musician to mortgage pioneer
By Rebecca Marston
Business reporter, BBC News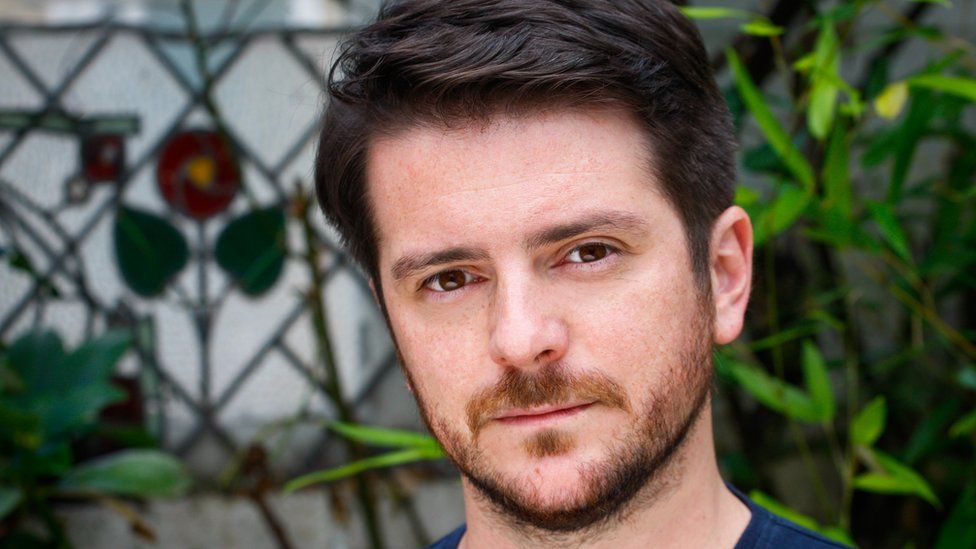 Daniel Hegarty, the founder of mortgage broker app Habito, does not have the physique of a tech geek.
The 35-year-old's arms are muscled and densely covered in tattoos, a legacy from his time, perhaps, as a successful guitarist.
Even by the standards of tech entrepreneurs, Daniel's background is unconventional.
Leaving school in London before he was 16, he says: "I guess I was a bit of a rebel. I wanted to do what I wanted to do.
"I just took days off, and when the local guitar shop offered me extra days' work, I decided I'd cut down on my school days."
Then he got suspended. But despite departing secondary education without any qualifications, it was not the disaster it would have been for most.
A talented guitarist, his punk group, Serum, got signed by the same record label as Boy George, and went on the road earning the princely sum of £100 a week per band member.
Before he was 20-years-old, Daniel was living in Los Angeles. But he gave up on becoming famous in his own right to instead write for, and play, with headline acts such as Robbie Williams, S Club 7, Pink and the Sugababes.
After some 10 years of this, he'd had enough: "It's a strange job. To make money you have to make a certain amount of bad music.
"And I came to the conclusion I was tired of staring at the back of teenage pop stars."
So he moved back to the UK in 2007 with nothing to do, before a music industry contact came to the rescue.
"A friend of mine was an opera singer who had a pop hit as Tina B," he says. "I called Tina and asked if she knew anyone who could give someone without any qualifications a job.
"She said she knew a couple of crazy tech guys who needed people."
A meeting over a cup of coffee got him in. The crazy tech guys turned out to be nucleus of the subsequently much-criticised payday loan lender Wonga.
"There were just a handful of us," says Daniel. "Between us, we did whatever needed doing."
At Wonga he discovered that he did, in fact, have another string to his bow other than music.
"It quite quickly emerged I was a massive geek," he says. "I'd spend my evenings reading text books on pure maths, and doing online courses from Stanford University [in California].
"Within a couple of months I was running a lot of the tech stuff."
But after a warm welcome from borrowers, Wonga's name became increasingly toxic. In 2014 it wrote off £220m of debts for 330,000 struggling customers after discussions with regulators, and put in place new checks as to whether people could afford the loans they were taking out.
Was Daniel embarrassed to say he'd worked at Wonga? "I didn't choose Wonga, Wonga chose me." But, as one of its designers, could he be accused of failing to assess the risks properly?
"My job was fundamentally building the website - how to get someone to show up and share their info, and how to get the money lent when it was wanted, and collected when it was due."
He left as Wonga mushroomed to an international business with 1,000 employees, and he was, again, spending too much time on the road.
Once more at a loose end, Daniel did what rock musicians are often thought to do: "I sat in my pants on my sofa."
The spark of the idea for online mortgage brokerage Habito came from his attempt to buy his first home. Daniel nearly lost out on the property after a series of mistakes by his mortgage broker.
He says they put down his wife's name, twice, alongside his own name. This held up the process for 10 days, and when the form was corrected the third, extra name that was removed was not the duplicated wife, but his own.
Now it appeared his wife had sparked a clone who was also part of the loan. The seller was on the brink of pulling out.
Daniel says: "I thought deeply about what I could do for a couple of months, and this is the best I came up with. But I knew nothing about mortgages."
So he started studying the industry. He spoke to mortgage brokers, lenders, and regulators in order to understand how it all worked, and he set about building Habito.
One criticism of the Habito app is that it removes the human touch. Daniel says that at Habito there is a point at which you can speak to a real human being, but critics still say such an online-based system is less likely to find the perfect type of product for the borrower.
Jonathan Harris, director of independent mortgage broker Anderson Harris, says: "There are so many additional criteria that are required nowadays in a mortgage market search. For example, the type of employment/self-employment, how income is made up, the type of contract, the type of property.
"While we welcome anything that speeds up the often torturously slow mortgage application process, face-to-face advice or over the phone will have a place for a while yet - although mortgage lenders and brokers need to improve their technological offerings."
As it stands, the world of mortgage broking is highly fragmented. The UK's biggest player, London and Country, has only 6% of the domestic market to itself, so there is plenty of scope for challengers.
Daniel says there is simply "no visible limit to Habito's growth". The company has been going for 16 months, he says, and every month it has grown 20%, so "every week is our busiest ever".
He says the London-based company has so far lent £250m to 50,000 borrowers, and employees have grown from eight to 45.
Daniel adds that running a proper business, initially seemed as unreal as being a rock star. "At first I felt like I was dreaming, going round telling people I was the 'made up' CEO of a 'made-up' business."
But he says he can still be awkward. "I will do what I want to do".
Daniel has also been able to return an early favour.
Remember the former opera-pop star? She's now working for him as his corporate lawyer. "There are quite a few second lifers in my business," he says.