US stock markets regain some ground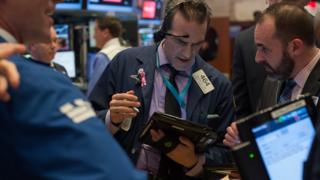 US markets climbed on Tuesday, as three major US indexes regained ground with their largest one day percentage gains in more than a week.
The Dow Jones, a collection of 30 major US companies, rose 0.9% to 21,899.8.
The wider S&P 500 index climbed about 1% to 2,452.5, while the Nasdaq increased 1.36% to 6,297.4 points.
Investors had been moving away from expensive stocks in recent weeks, after share prices hit record highs earlier in the summer.
But with values moderately lower, some of those companies saw renewed interest on Tuesday.
The technology sector led the gains, with shares of Google owner Alphabet rising 2.1% and Apple up 1.6%.
Relief also came for battered retail stocks such as Macy's, which added 3.8% and a 4.2% jump for Foot Locker.
Nathan Thooft at Manulife Asset Management said: "People seem to be a little less worried about political uncertainty and there's less chance of war with North Korea. The broader fundamentals still look pretty good."
Monsanto rose 0.3% after the European Commission said it would open an in-depth investigation into the agricultural giant's proposed $66bn takeover by Germany's Bayer due to antitrust concerns.
The US firm said it will work with regulators and that it still hoped to close the deal by the end of the year.