WPP shares slip as Provident bounces back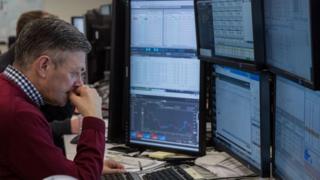 Troubled doorstep lender Provident Financial has gone from being Tuesday's biggest stock market loser to Wednesday's biggest winner.
However, Wednesday's gain of 12.1% paled by comparison with its 66% plunge on Tuesday.
At the other end of the scale, advertising giant WPP's shares sank 11% after it reported slowing sales.
At the close, the FTSE 100 was just in positive territory, up 0.91 points or 0.01% at 7,382.65.
On the currency markets, the pound was down 0.3% against the dollar at $1.2786 and down 0.63% against the euro at 1.031 euros.