Dixons Carphone warns on profit as mobile sales hit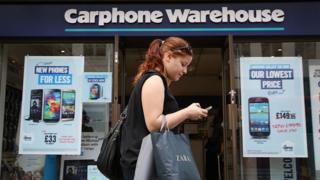 The owner of Carphone Warehouse and Dixons has warned that more expensive mobile phone handsets and lower EU roaming charges will hurt its profits.
Shares fell 23% after it said profits this year would be between £360m and £440m, down from £501m last year.
Dixons Carphone said customers were not upgrading their phones as frequently because handsets had risen in price.
It also predicted it would take a hit from the EU scrapping roaming charges for people using mobile phones abroad.
Chief executive Seb James said in an unscheduled statement that the market for contract mobile phones had become "more challenging" in recent months.
The fall in the pound had made handsets more expensive and innovation of phones has been "incremental", Mr James said.
iPhone 8
As a result, phone users are typically holding onto their handsets for four to five months longer, Dixons Carphone's executives said.
It is hoping that the next iPhone 8 - due to be launched in the autumn - will prove a hit after its sales of the iPhone 7 were disappointing.
Mr James said: "We're anticipating that iPhone 8 launch will be much better, maybe not as good as the iPhone 6, more like the same numbers as the iPhone 6S.
"We think the iPhone 8 is a better phone and we will see our customer base returning."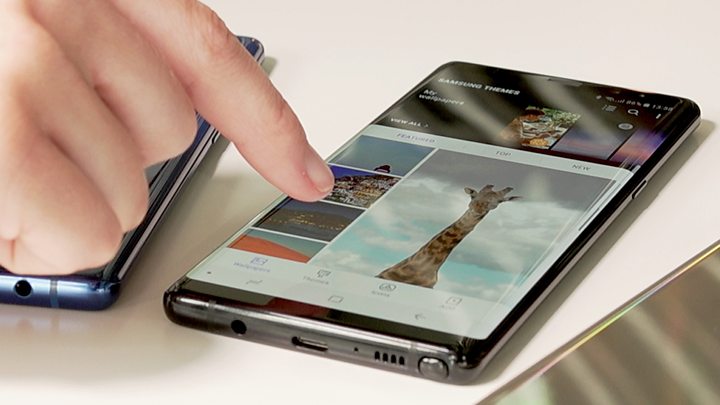 It expects the new Samsung Note 8 - unveiled on Wednesday at a price of £869 in the UK - to have less of an impact.
"We don't think the Note 8 is causing an enormous amount of disruption in the market, it's a nice phone but a bit small [in terms of impact]," Mr James said.
EU roaming
Dixons Carphone shares had been down more than 30% in early trading before recovering slightly.
Mr James told the BBC's technology correspondent Rory Cellan-Jones that he was not shocked at the size of the share price fall. "Thoughtful investors will begin to see quite soon that we look a bargain and the shares should recover," he said.
The retailer, which takes a slice of the value of customers' phone contracts, said it would take a hit of up to £40m from changes to EU roaming legislation made in June.
Mr James said it was "hard to quantify at this stage" how big the impact would be on the business.
The hit from lower roaming charges compares with one-off benefits of £71m last year, and the retailer said its core retail business would remain steady this year.
It expects growth in its UK and Ireland, Nordic and Greek electrical businesses to offset the falls in mobile phone sales.
Dixons Carphone shares, which closed at 183.5p, also went ex-dividend on Thursday.
That often leads to a fall in the share price as it will be at least six months before the next dividend is paid out.
Analysts at Liberum said the new profit guidance range of £360m-£440m was "relatively broad". The two key unknowns were the success of the iPhone 8 and trading over the important Christmas peak period, Liberum said in a note.
Hargreaves Lansdown analyst Nicholas Hyett said news that people were holding onto their phones for longer was "concerning".
He said: "Currency movements will have made new phones more expensive, but since the same should be true in the electronics business, which is faring well, we suspect the lack of significant innovation in recent models is a bigger problem."