Household spending growth 'slowest since end of 2014'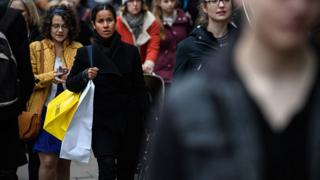 Household spending saw its lowest rise in two-and-a-half years, partly due to a slowdown in car sales, according to official data.
In the three months to June, spending grew by 0.1%, the slowest since the end of 2014, the Office for National Statistics (ONS) said.
It came as the ONS confirmed economic growth was 0.3% in the second quarter.
Analysts said the figures highlighted the UK as the slowest growing economy in the G7 so far this year.
The ONS said the slowdown in spending reflected "a deterioration of the economic position of consumers in the start of 2017".
A major factor in the fall was lower spending on transport - including cars - which declined 2.2%, according to the ONS.
That was partly due to customers buying more cars at the start of the year before road tax changes came into effect in April.
In a further sign of the squeeze on consumers, a survey suggested British retail sales growth had slowed in August at the fastest pace in more than a year.
The CBI's monthly retail sales balance slid to -10 in August from +22 last month, its lowest since July 2016 - shortly after the Brexit vote.
"Despite the warmer weather at the start of the month, retail sales have cooled as higher inflation continues to squeeze consumers' pockets," CBI economist Anna Leach said.
Consumer spending is a major driver of the UK economy, but has been put under pressure by inflation outpacing people's wages.
'Moderation'
Samuel Tombs, chief UK economist at Pantheon Macroeconomics, said the GDP figures confirmed the UK economy grew by 0.5% in the first half of the year.
That was slower than Japan, Germany, France, US, Canada and Italy, he said.
John Hawksworth, chief economist at PwC, said the UK economy had grown at "only around half the growth rates seen in the US and the eurozone in that quarter".
"This data confirms the picture of a moderation in UK growth that we expect to continue through the second half of the year," he added.
Investment rose by 0.7%, but this came from higher government spending rather than from businesses.
Exports of British-made goods increased by 1.5% but exports of services fell by 0.4% and imports also rose.