Amazon price cuts sink rivals' shares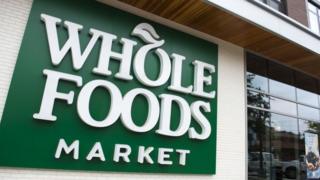 Investors dumped food and grocery stocks on Thursday after Amazon said it would complete its takeover of Whole Foods on Monday and immediately embark on price cuts.
The news drove losses at retailers including Walmart, Target and Costco and helped push US markets lower.
The Dow Jones Industrial Average fell 0.1% to 21,783 points.
The wider S&P 500 dipped 0.2% to 2,438.9 points and the Nasdaq slipped 0.1% to 6,271.3 points.
Wall Street has been relatively quiet this week, as the results season wraps up and investors await any news from central bankers at an annual conference in Wyoming.
Amazon's news reignited fears for the supermarket industry.
In addition to lower prices, the e-commerce giant said it plans to sell Whole Foods brand products on its website, integrate its systems to offer Prime members discounts and provide Amazon pick-up spots at Whole Foods stores, among other changes.
Roger Davidson, a former Whole Foods executive now with consultancy firm Oakton Advisory Group, said Amazon "will lower prices on consequential items to drive traffic and sales, but not do a whole store price reduction, which could really damage gross margin and potentially wipe out operating margin.
"It does not look like they will go kamikaze on pricing."
Prices at Whole Foods can be an average of 15% to 20% higher than those charged by some rivals.
Amazon's move sent Walmart down 2%, with Target slipping almost 4% and Costo down 5%.
Food companies also took a hit: Campbell Soup fell 3% and Kellogg dropped 2.9%.
Amazon fell 0.6% to $952.45 and the stock has dipped just over 8% in the past month, but has risen 27% since the start of the year.
Meanwhile, shares of Signet Jewelers, which owns diamond brands such as Kay's, were a rare gem, rising more than 16%, after the firm announced a plan to buy an online retailer for $328m.
The company also reported that sales in the three months to July reached almost $1.4bn, up 1.9% year-on-year.