FTSE 100 closes lower after Yellen speech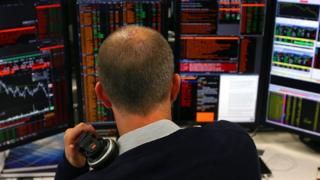 Shares in London turned south after a key speech by the US central bank chairman.
In it, she said existing banking rules should be left largely as they were. US president Donald Trump has called these rules a "disaster".
Overall, the benchmark FTSE 100 index was down 5.6 points at 7,401.46.
Shares in troubled doorstep lender Provident Financial rose 22% - their third increase in a row, following their 66% plunge on Tuesday.
The stock was bolstered by news of a management shake-up at the firm.
Tuesday's slump was prompted by the company's second profit warning in three months.
Provident rose 13% on Thursday and 12% on Wednesday.
Friday's trading was not so rosy for advertising giant WPP, another firm that has seen big losses this week.
Its shares fell 11% on Wednesday after it reported slowing sales, then rose 2.9% on Thursday. But on Friday it was back in the losers' table, shedding 1.7%.
On the currency markets, the pound gained on the dollar's fall post that Yellen speech.
It was up 0.61% at $1.2879 and rose 0.04% against the euro at 1.0842 euros.