US markets rise before Jackson Hole speeches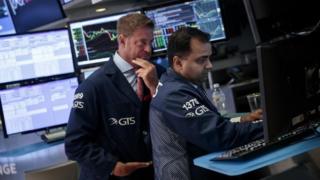 US markets closed flat after top central bankers in the US and Europe gave speeches that steered clear of statements about interest rates and stimulus programmes.
Federal Reserve Chair Janet Yellen defended US bank regulations, while European Central Bank President Mario Draghi warned against protectionism.
The Dow Jones edged up 0.14% at 21,813.67 and the wider S&P 500 index rose 0.17% to 2,443.05 .
The Nasdaq fell 0.09% to 6,265.64.
Energy companies were among the winners on Wall Street on Friday. ExxonMobil increased 0.5%, while Chevron shares climbed 0.74%.
Investors are trying to anticipate the effect of a major hurricane that is expected to hit US refineries, concerns that have already driven up oil prices.
Beauty retailer Ulta Beauty posted some of the heaviest losses, falling more than 9%.
The firm on Thursday reported sales of almost $1.3bn for the three months to the end of July, up more than 20% year-on-year. But the strong sales were not as high as some analysts had forecast, hurting the stock.