Uber ban lifted in Philippines after fine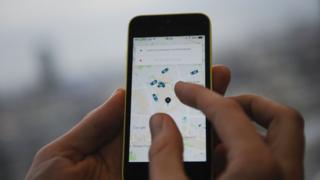 Uber has returned to the road in the Philippines after paying nearly $10m in fines and compensation.
The regulators had banned the ride-hailing app for a month for violating an order to stop accepting new driver applications.
The ban was lifted early after the company paid a penalty of 190 million Philippine pesos (£2.88m; $3.72m).
Uber also paid $5.87m in financial assistance to drivers.
Uber has been popular in the Philippines, particularly in the capital, Manila, which has notoriously bad traffic and often slow public transport.
Its suspension had angered many commuters, who criticised the government for taking away the app.
Uber secured a franchise to operate in the Philippines in 2015 and now has more than 66,000 drivers.
The transportation agency acknowledged the criticism it had received, but insisted it was ensuring commuter safety.
Dispute over applications
The Land Transportation Franchising and Regulatory Board (LTFRB) stopped Uber's operations in mid-August, after it accused the company of flouting an order to stop accepting new driver applications.
The agency made the order last year for services like Uber and its Southeast Asian rival Grab while it studied how to regulate a growing industry.
"We have complied with the requirements outlined by the LTFRB, and are grateful for the opportunity to serve the Philippines again," Uber said in a statement.
The loss-making firm's troubles in the Philippines are just one of many problems it faces globally.
It has now confirmed that Expedia boss Dara Khosrowshahi will take over as CEO, charged with turning the company around.
He replaces Uber co-founder Travis Kalanick, who resigned after clashes with regulators, a trade secrets lawsuit and sexual harassment scandals.
Uber also faces a preliminary investigation launched by the US Department of Justice into possible violations of bribing foreign officials.