Renault-Nissan to build electric cars in China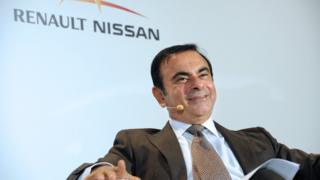 Renault-Nissan will build electric cars in China, joining the growing push by automakers to manufacture greener vehicles for the world's biggest auto market.
The cars will be built through a new venture with local firm Dongfeng Motor.
Global automakers including Ford and General Motors are working to develop electric cars in China.
It is the largest market for electric vehicles and new rules to cut pollution are expected to boost sales.
The venture, eGT New Energy Automotive Co, will develop an electric mini-SUV to go into production in 2019. The vehicles will be sold under the partners' own brands.
No price details for the new vehicles were given.
Renault-Nissan and Dongfeng already work together to manufacture combustion vehicles.
Automakers are jostling for a slice of the growing Chinese market ahead of the introduction of new rules designed to fight pollution.
China wants electric battery cars and plug-in hybrids to account for at least one-fifth of its vehicle sales by 2025.
The proposals, due to take effect as early as next year, would require 8% of automakers' sales to be battery electric or plug-in hybrids, rising to 12% in 2020.
Earlier this month Ford said it was exploring a joint venture with carmaker Anhui Zotye Automobile Co to build electric vehicles under a new brand, in competition with China manufacturing plans previously announced by Tesla, Volkswagen and General Motors.
Renault-Nissan chairman Carlos Ghosn said the move "confirms our common commitment to develop competitive electric vehicles for the Chinese market".
Ghosn has previously discussed plans to "change the game" with a low-cost electric car priced below $8,000 after Chinese incentives, and ultimately without them.