Royal Mail leaves the FTSE 100 in quarterly shake-up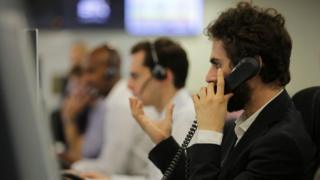 The FTSE 100 closed higher on Wednesday, but Royal Mail is set to leave the ranks of the blue chip index.
The blue chip index finished up 27.83 points at 7,365.26.
In FTSE Russell's quarterly review of its constituents, Royal Mail will be relegated to the FTSE 250 alongside troubled doorstep lender Provident Financial.
The postal service has been a FTSE 100 company since shortly after being privatised in 2013.
On Wednesday, Royal Mail's shares closed at 390.5p, giving the postal service a market capitalisation of £4bn.
A company's place in the FTSE 100 or FTSE 250 is determined by its market capitalisation at the close of trading on the day of the review.
If a group has a value that puts it at 90th place or above, it will join the FTSE 100. If it falls to the 111th position or below, it will be demoted to the FTSE 250.
Nicholas Hyett, equity analyst at Hargreaves Lansdown, said: "Royal Mail has lost its struggle to maintain a place in the FTSE 100. We're not sure that's something you can lay at chief executive Moya Green's door though, as the group continues to face tough market conditions.
"Letter volumes have seeped away faster than the group had expected, partly as a result direct marketing drying up as business confidence slumped after the EU referendum, while pricing remains tough in parcels."
Shares in Provident Financial, which recently issued a profit warning and parted ways with its chief executive Peter Crook, finished 1.68% lower at 891.27p to value the company at £3.1bn. It will also descend to the FTSE 250.
In contrast, NMC Health, the Abu Dhabi-based hospital operator, will move up from the FTSE 250 into the FTSE 100 along with housebuilder Berkeley Group.
All the changes from the review be implemented at the close of business on 15 September and will take effect from the start of trading on 18 September.
The FTSE 250 closed 88.67 points up at 19,616.56.
Northgate, the commercial vehicle hire group, miner Petra Diamonds and construction firm Carillion will fall out of the FTSE 250. Those moving up to the FTSE 250 include online betting group 888 Holdings.
On the currency markets, the pound edged up by 0.48% against the euro at 1.0843 euros. Sterling was marginally higher against the dollar at $1.2931..