US stocks close higher after GDP growth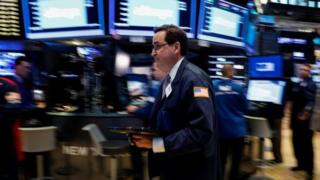 US stocks climbed on Wednesday, after the Commerce Department said the economy grew faster than expected in the second quarter.
President Donald Trump also made a speech calling on Congress to act to advance tax reform, a proposal favoured by many businesses.
The Dow Jones, a basket of 30 major US companies, climbed 0.12% to 21,892.43.
The wider S&P 500 index advanced 0.46% to 2,457.59 and the tech-heavy Nasdaq jumped 1.05% to 6,368.31.
The Commerce Department said the US economy grew at a 3% annual rate over the three months to the end of June, up from an earlier 2.6% estimate.
The revision means that growth for the quarter was at the fastest rate since the first quarter of 2015.
President Donald Trump said tax reform should propel US growth even higher, though he released few specifics.
Technology companies led the stock gains, with Cisco and Microsoft seeing some of the biggest increases on the Dow.
H&R Block, one of the biggest US tax preparation companies, saw its stock fall more than 8%, a day after it released quarterly earnings.
The firm reported a net loss of more than $130m for the three months to the end of July and told analysts it expects more tax filers to opt for "DIY" or do it yourself options next year.
But the firm's chief executive said he isn't worried that tax reform will upend the industry, noting that a new plan remains unclear.
"The only thing that's emerging is that there's definitely a lack of consensus around any single proposal," said incoming chief executive Tom Gerke,
He added that H&R Block as a business would benefit from lower corporate rates, but he doesn't think families will feel comfortable without assistance.
"It could be simpler, but there's no scenario where it would be simple, the US tax code," he said.