Co-op enters talks to acquire Nisa convenience store firm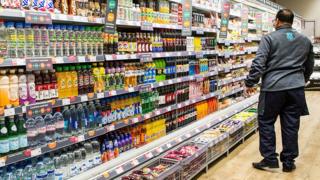 The Co-operative group has entered exclusive talks to acquire UK convenience store operator Nisa.
The firm is understood to be considering a £140m bid, which would see it take over the wholesale business that supplies 3,000 Nisa stores.
The Co-op has now replaced Sainsbury's, which had also been reportedly mulling a bid, as the front-runner for Nisa.
Nisa's chairman Peter Hartley said it had held "positive" talks with the Co-op in recent weeks about a sale.
He added that Nisa and the convenience sector "continue to evolve at pace", while also leaving the door open to other bids.
Grocery shake-up
A shift in shopping habits, fierce competition - including from Aldi and Lidl - and the entrance of Amazon has seen grocery chains look to bolster their businesses by buying food wholesalers.
Tesco is attempting to acquire Booker, which supplies goods to convenience stores, pubs and restaurants.
However, the £3.7bn deal is being investigated by competition regulators - a move with was widely reported to have led Sainsbury's to pause its own interest in Nisa.
The Co-op said the period of exclusivity with Nisa would allow it to carry out more detailed due diligence on a bid.
"Following this period and subject to approval from our board, we hope to be in a position where we can put forward an offer to Nisa members," a Co-op spokesman said.
'Positive discussions'
Any bid would need to be approved by Nisa's 1,300 shopkeeper members.
Mr Hartley told the Nisa members: "The board of Nisa has held a number of positive discussions with the Co-op in recent weeks, following its reaffirmation of interest in making an offer for your company.
"Should an offer of merit emerge from this process, it will be for you, the members, to decide on whether to accept it."
If the Co-op completes the deal, Nisa's members will still run the shops, but the Co-op will take over the buying and distributing of groceries sold in those stores.