US stocks rise on weak inflation figures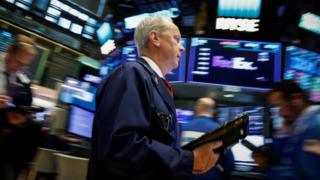 US stocks closed higher as weak inflation data appeared to make another rate rise by the Federal Reserve this year less likely.
The Personal Consumption Expenditures price index - the Fed's favoured measure of inflation - remained unchanged at an annual rate of 1.4% in July, below the 2% target.
The core PCE measure - which excludes fuel and food - fell back slightly.
The Dow Jones rose 0.25% points to 21,948.1.
The wider S&P 500 index added 0.57% to 2,471.65 and the tech-heavy Nasdaq climbed 0.95% to 6,428.66 - reaching a new record.
Health care companies led the gains. Shares of UnitedHealth Group, which this week announced a deal to acquire a Washington business, climbed 1.5%. Pfizer shares increased 1.4%.
Campbell Soup Co shares dropped more than 8% after the firm said sales in the three months to the end of July fell 1% and warned that sales might slide farther over the next 11 months.
Shares of Wells Fargo slipped 0.56% after the bank - which has faced an avalanche of criticism - and fines - in recent months over the disclosure it set up fake bank accounts - announced it had uncovered another 1.4 million potentially phoney accounts, bringing the total to up to 3.5 million.