Shares in drug firm Indivior slump on US court ruling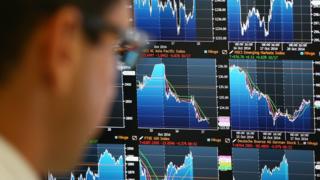 Shares in Indivior closed down 35% after a US court ruling raised the possibility that its Suboxone Film opiod addiction treatment could face competition from a cheaper product.
A US court said a planned rival product from generic drugmaker Dr Reddy's had not infringed Indivior's patents.
Indivior - a FTSE 250 firm - plans to appeal against the ruling. Suboxone accounts for about 80% of its revenues.
The mover helped to pull the FTSE 250 index down 17.41 to end at 19,786.18.
However, the benchmark FTSE 100 index was up 7.88 to close at 7,438.5.
Shire plc was the best riser on the index, closing up 2.6%.
Broker recommendations were behind some of the share price moves. Shares in Greene King fell nearly 4% after HSBC cut its rating on the company to "reduce".
A weaker than expected US jobs report sent the dollar higher against the euro.
The pound also put on weight as the day wore on, helped by a strong survey of UK manufacturers earlier.
Sterling was up a third of a cent against the dollar at $1.2974 and gained 0.6% against the euro to 1.0926 euros.