US stocks close higher for second week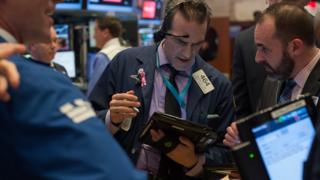 US stocks closed higher on Friday, capping a second week in a row of gains that have returned indexes to the record territory they were trading in earlier in the summer.
The Nasdaq index added 6.67 points, climbing 0.1% to 6,435.33, a new high.
The Dow Jones gained 39.87 points, rising 0.2% to 21,987.97, while the wider S&P 500 index increased by 4.9 points, climbing 0.2% to 2,476.50.
A lacklustre jobs report helped lift shares.
The Commerce Department said the US economy added just 156,000 jobs in August. It also lowered figures for June and July.
Analysts said the report was not so bad that it suggested problems in the US economy, but it could make the Federal Reserve hesitate on plans to increase interest rates.
US stocks have been on a nearly constant upward march since January.
The Nasdaq has risen by more than 18% since Jan 1. The Dow and the S&P 500 are both up about 10%.