How UK football expertise could help China win World Cup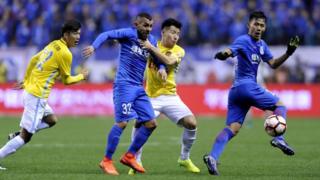 Football and China have rarely been out of the headlines in recent years, whether it is big name stars such as Carlos Tevez moving to play there, or Chinese billionaires investing in European clubs.
Tevez's salary is reportedly a whopping £600,000 a week, which highlights the growing financial muscle of the domestic Chinese Super League, as it looks to surpass basketball and table tennis in popularity.
At national team level China also has ambitious goals; it hopes to qualify for another World Cup(their only appearance was in 2002), then host a World Cup (probably in 2030 or 2034), and then kick on and ultimately win a World Cup.
But all this is the tip of the football iceberg, and underneath there are grassroots plans to give the sport a sustainable future, centred on infrastructure and youth player development.
However, while it is relatively easy to buy a star player, to achieve these other goals will take more planning and long term commitment.
Overseas expertise
That is creating opportunities for British firms as Chinese entrepreneurs, hoping to profit from President Xi Jinping's edict to make China a successful football nation, seek overseas expertise.
"I first launched a football business in China in 1999," says Karl Hawkins, chief executive of Kehua Sports, who accompanied the Chinese president on his fact finding trip to Manchester City two years ago.
Over the past 17 years he has built four training facilities in Shanghai, and his firm currently manages two of them; Jing An Stadium and Century Park Stadium.
Mr Hawkins, who is also the former technical officer of the Chinese national football team, says: "At times it seemed there was little interest in the sport in China outside of the dedicated football followers. So we were very pleased with what the president said.
"This is a real opportunity for football to develop in China, but we need to make sure we do things the correct way. We have to be realistic that change will not happen in just one day.
"We have probably done things the wrong way in 20 of the last 30 years.
"The most important thing is the development and creation of youth coaches. But this is not easy in China because not many people are willing to give up their time to do this."
His firm is constructing a private football academy in the south west city of Kunming, built to European standards, which will not only be used to develop the Chinese coaches and players of tomorrow, but be available for foreign touring sides to train on.
Mr Hawkins' academy will have one pitch for community use, and four academy pitches for honing the skills of the potential World Cup winners of tomorrow.
Pitch expansion
It is all part of another national target to have some 70,000 football pitches across the country, alongside 20,000 training centres, by 2020.
By 2025 China wants to have 50,000 schools that are "powerful in football". And by 2030 it hopes to have one pitch per 10,000 people.
Overlaying the sporting goals, there is an important economic one too, as China wants to develop a $800bn sports economy by 2025, a figure which would represent 1% of its annual domestic economy.
In order to help achieve that Beijing has cut taxes for companies specifically in the industry, and removed red to tape to encourage both domestic and foreign investment.
Mr Hawkins says he uses British firms for his goalposts, line marking equipment, technology for the upkeep of grass, and most importantly, the construction of the academy buildings and pitches.
The latter is being carried out by Manchester firm AFL Architects, which has worked with clubs including Chelsea, Manchester United, Stoke City, Everton, Liverpool and Southampton in developing their training complexes.
"There is a desire to bring Chinese football up to UK and European standards," says AFL creative director Phil Osborne.
"Their academy system is different from the UK's. They are not owned by clubs but by private individuals.
"This grassroots route is the way Chinese football has to go, and they have to make use of the UK's long history of football expertise.
"Meanwhile, for us, it gives us access to a new and major marketplace."
However, all the pitches and infrastructure in the world are useless, as Mr Hawkins intimates, without qualified coaches.
Therefore there is a plan to have 50,000 full-time and part-time football coaches trained by by 2020.
Strategic importance
Celtic is one British football club that is already independently assisting in the development of young players and coaches at a local level in China.
It is working with a sports firm operating in Shanghai and Mianyang, which is itself funded by local governments in those two cities.
"It is all part of the central plan to improve football standards," says Cheng Zeng, Celtic's business development manager for China.
"Two young Chinese teams have come to train in Glasgow, and coaches have also come for training. We are very pleased to be involved with this.
"We want to help develop their young players all the way up from the school level until they hopefully can make a success at professional level."
In return Celtic is able to get a presence in a country where the best known overseas teams are the likes of Manchester United, Real Madrid and Barcelona.
He said the club was hoping to sign a partnership deal with a top tier Chinese club soon, and was also in discussions with property firms about the possibility of launching a Celtic skills academy in the country.
"The Asian market is very important to Celtic," he says.
"We don't have the financial muscle of some of the bigger European clubs, so we are looking for Chinese partners to help us grow our name in China.
"Meanwhile we can help also teach them other things about football, such as the importance of football clubs being important parts of their local communities."