Christian Dior and Gucci owners drop super-skinny models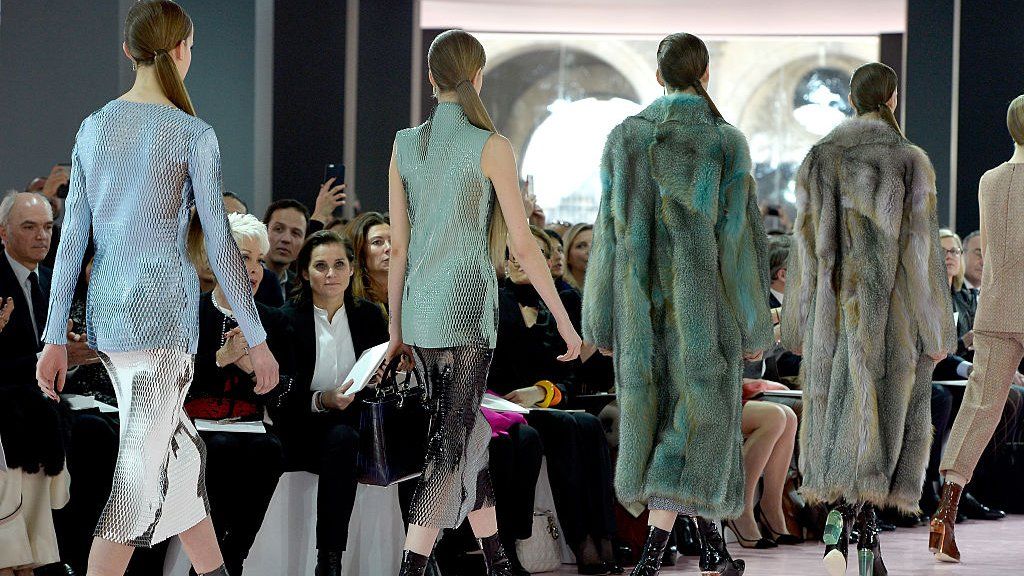 The fashion houses behind brands including Christian Dior and Gucci have said they will stop using underweight models for their catwalk shows.
LVMH and Kering, two of the biggest fashion firms in the world, made the move amid criticism the industry encourages eating disorders.
Models must be bigger than a French size 32, which typically equates to a UK size six or US size zero, LVMH said.
The firms will also not use models under the age of 16 for adult clothes.
Kering's billionaire chairman Francois-Henri Pinault said the firms hoped to "inspire the entire industry to follow suit".
The two French companies' brands also include Givenchy, Yves Saint Laurent, Alexander McQueen, Marc Jacobs, Thomas Pink, Fendi and Stella McCartney.
One of the other brands covered is LVMH's Louis Vuitton, which was criticised by a model in May over her treatment.
Danish model Ulrikke Hoyer said she had been asked to starve herself in the run-up to a show. The casting director denied the claim.
Critics argue catwalk models promote an unhealthy and unrealistic body image, whereas fashion industry insiders have said clothes hang better on tall, thin women.
Denise Hatton, chief executive for YMCA England & Wales, a founding partner of the Be Real Campaign for body confidence, said LVMH and Kering's plan was a "step in the right direction".
But she added: "While some people are naturally slim, the average woman in the UK wears a size 16 and we'd like to see more diversity on our catwalk that truthfully reflects our society, with all its shapes, sizes, ethnicities and more."
Why are they making this change?
The move by the two French firms comes after a law banning ultra-thin models came into effect in the country in May.
Those who break the French law face fines of up to 75,000 euros (£69,000) or jail sentences of up to six months.
Models must also be able to present a valid medical certificate that they are fit to work.
Kering and LVMH said their worldwide charter would go further, adding that models would be given a psychologist or therapist while at work.
LVMH director Antoine Arnault said: "I am deeply committed to ensuring that the working relationship between LVMH Group brands, agencies and models goes beyond simply complying with the legal requirements."
Mr Pinault said the companies wanted to make "a real difference in the working conditions of fashion models".
"Respecting the dignity of all women has always been both a personal commitment for me and a priority for Kering as a group," the group's chairman added.
The companies' changes will come into effect before Paris Fashion Week this month.
How does fashion influence body image?
Eating disorder charity Beat said it "oversimplifies the issue" to suggest the fashion industry was the main cause of body image problems.
"But we do know the ideals presented within the fashion industry can exacerbate and prolong the illness, and we encourage the promotion of healthy body image and ideals in this area," Beat said.
Last week, the former editor of British Vogue, Alexandra Shulman, told the BBC that "skinny as a rake" was no longer seen by many women as the ideal body type.
She also said the choice of catwalk models was not to do with how most people wanted to dress.
"That's to do with the way fashion designers want their clothes to look," she told BBC Radio 4's Today programme.