No 10 seeks Brexit backing from business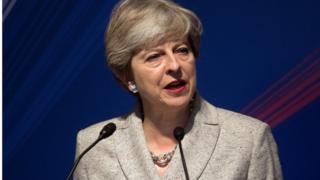 Downing Street has approached some of the UK's biggest companies, asking them to give public backing to the government's approach to Brexit.
Business leaders are being asked to sign a letter expressing support, a copy of which has been seen by BBC business editor Simon Jack.
However, some leaders said they are reluctant to support a strategy that lacks clarity.
Number 10 has declined to comment on the existence of the letter.
The letter asserts that now is the right time for employers to work with government to make it a success.
It also says the signatories welcome the government's commitment to negotiating an interim period after the formal exit date and would bring their expertise in international trade to bear on the government efforts to create future relationships outside the EU.
Several potential signatories contacted by the BBC said that while they supported the idea of bringing government and business closer together, they expressed reluctance to give unconditional support for a government negotiating strategy which they felt lacked clarity.
As one FTSE chairman told our business editor, it is dangerous to ask a question when you are not sure what the answer will be.
News of the letter came on the same day that many business groups expressed grave concerns over leaked draft government proposals to clamp down on UK companies' ability to recruit workers from the EU.