Uber in Asia: 'Here to stay'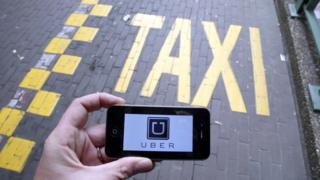 The new boss of Uber in Asia has said there is no way it will sell out of the ride-hailing business in this region. His first detailed comments about his strategy come as the firm struggles against competitors and its tarnished global brand.
L Brooks Entwistle, Uber Asia Pacific's new chief business officer has acknowledged that the firm's reputation has taken a knock over sexual harassment scandals in the US, but added that he is focused on fixing these issues and growing the Asia market aggressively.
Uber has struggled to maintain market share in Asia, and was forced to sell its China business to rival Didi Chuxing last year after losing an estimated billion dollars a year. As I wrote about at the time, the end of Uber's China dream was a huge loss of face for then CEO and founder Travis Kalanick, who once famously said success in China meant being number one.
No "exit strategy"
There have been concerns that Uber could face the same fate in the wider region, but Mr Entwistle told me there's no way that something like that would happen.
"This [Asia] is a big part of the world," he tells me in Uber's downtown Singapore office. "It's 20% of rides, there's a huge percentage of drivers, it's a growth market across the region for us."
"We need to do what we can to contribute to that. So there's no exit strategy for Asia."
Them sound like fighting words, given the current scenario in the ride-hailing industry in Asia. Across the region local rivals are giving Uber a run for its money.
In South East Asia, home-grown rival Grab run by Malaysian tycoon Anthony Tan is making inroads by capturing market share in seven major Asian cities, including the jewel in the crown - Singapore. It's also raised billions of dollars of investments from Japan's Softbank and China's Didi Chuxing.
In India, Uber is having to fend off competition from Ola which has the backing of Didi too.
Add to that regulatory uncertainty and the allegations of sexual harassment and mismanagement in the US, and it's easy to see how Uber has lost its first mover advantage in this region.
But Mr Entwistle insists that all is well.
"We are not thinking about losing countries," he says. "We are thinking about gaining countries and market share in these countries. It is very much a growth game."
But the reality is that Uber's rivals in Asia are closing in on that gap. Grab opened in Myanmar earlier this year and while Uber has also offered its services in Yangon too, many analysts say local players have an edge in this region because they understand the market better.
Mr Entwistle is quick to point out the global appeal of Uber though, by emphasising the company's wide reach.
"We are a global organisation of 600 cities in 77 countries in six continents," he tells me confidently. "We bring a global approach to local markets."
Problems to fix
The former Goldman Sachs banker turned tech boss has only been in the job for a couple of months. He tells me that Cambodia is the next market for Uber in Asia and that going deeper into existing markets is the strategy for success in the region.
But it's not just competition that Uber has to contend with. The recent sexual harassment scandal, allegations of trade theft and boardroom turmoil have all dented the global brand and left it preoccupied with fixing the company culture rather than focusing on growth.
Mr Entwistle acknowledges there are problems to fix.
"Uber grew incredibly fast since inception," he says, "and some of the processes and culture didn't keep apace with that growth. I can tell you having just come on board recently that... everyone is totally focused on that [company culture]".
Mr Entwistle also adds that "we aren't perfect yet but we're working hard to get there".
He will have his work cut out. Asia is becoming an increasingly competitive ride-hailing market, and Uber is no longer the only player in town. But the two time Mount Everest climber and father of three daughters is no stranger to challenges, and as Mr Entwistle says in his LinkedIn blog looking for new approaches to old problems goes with the territory. He would do well to heed his own advice.