Body Shop owners 'to keep Dame Anita Roddick's legacy alive'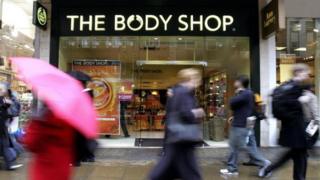 The new owners of UK cosmetics chain The Body Shop have said they plan to keep the legacy of founder Dame Anita Roddick alive as they look to revive the company.
Brazilian group Natura bought The Body Shop from L'Oreal for an estimated 1 billion euros ($1.1bn; £880m).
Co-chairman Guilherme Leal told the BBC it would remain committed to the firm's principles on ingredients and testing.
"We are much more similar to The Body Shop than L'Oreal," Mr Leal said.
"I respect L'Oreal, but they are a huge corporation," he added.
The Body Shop, founded by the late Dame Anita in 1976, was a pioneer in using natural ingredients for its beauty products.
Mr Leal said: "Natura is a company that was born in the same way of The Body Shop almost at the same time.
"And we have this connection with sustainability, with ingredients from the Amazon, and we need a platform to go abroad."
Natura started in 1969 and has since grown into one of Latin America's biggest cosmetics groups.
Its success is based on a vast network of sales consultants and a culture of using local communities to source ingredients from the Amazon in a sustainable way.
The acquisition was announced in June and concluded last week.
The deal turns Natura into a global player, buying The Body Shop's 3,200 shops in 66 countries and 18,000 workers. In 2013, it also purchased Australian group Aesop.
L'Oreal bought The Body Shop from its original owners back in 2006, when the company was at its height.
But recently the brand has seen a drop in sales, with other competitors increasing their market share.
'Protect the Amazon'
Mr Leal told the BBC the deal is also a strategy for Natura to reduce its risks, as most of its sales are done in Latin America, where many countries have recently experienced recession, particularly Brazil.
By expanding its operations to Europe the group will be less exposed to the problems of the Brazilian economy.
The co-chairman of Natura also criticised Brazil for its mismanagement of resources in the Amazon, saying the country is not wisely using its natural wealth.
Brazil's President Michel Temer recently issued a decree to open up parts of the forest to mining activities. The decision has been suspended and is under review, after public outcry against the measure.
Mr Leal, who ran for vice-president of Brazil in 2010 as part of the Green Party, said the country should reconsider its economic activities in the rainforest.
"I don't think the Amazon is a place to do agriculture. You should use the already devastated areas for that.
"On mining, Brazil needs mining for sure, but you should really have a deep dialogue with society to establish the right rules to use the Amazon for those activities," he said.