Unite boss calls for co-ordinated pay strikes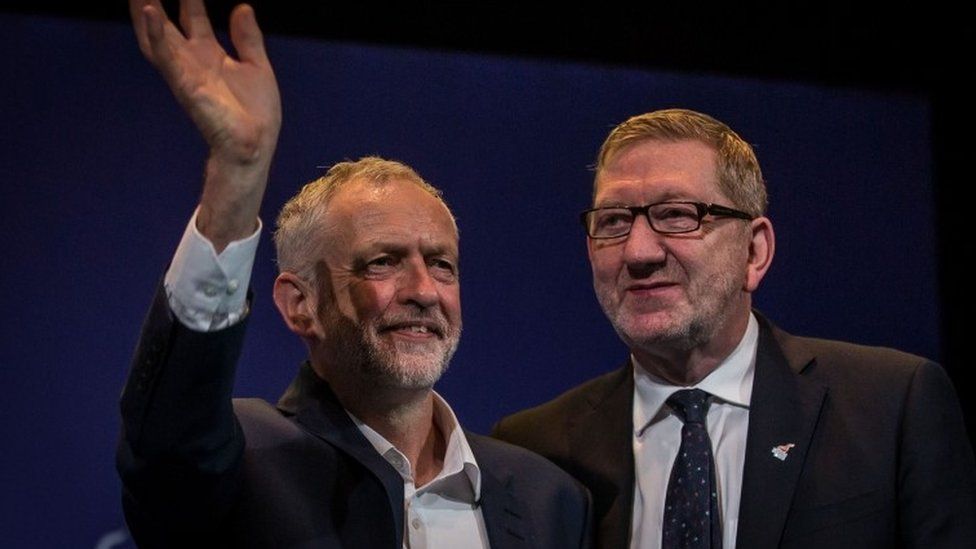 The leader of Unite, Len McCluskey has said co-ordinated public sector industrial action on pay is "very much on the cards" in the coming months.
The boss of Britain's biggest union said he would go as far as to support illegal strike action in protest over the 1% public sector pay cap.
Strike ballots need a 50% turnout for legal industrial action to go ahead.
Prison officers will get a 1.7% rise while police will get a 1% pay rise plus a 1% bonus for the year, paid for from existing departmental budgets.
No 10 also signalled the end of the 1% pay cap, saying they recognised the need for more flexibility in future.
Mr McCluskey's comments come as the GMB union said workers at the Sellafield nuclear plant would strike on September 27 in a dispute over pay.
Mr McCluskey, who is the latest senior union figure to threaten widespread walkouts, said he would defy the legal requirement that strike action needed to be approved by a ballot with a turnout of more than 50%.
"If they [Unite members] haven't managed to hit an artificial threshold this government have foolishly put onto the statute books, then I will stand by our members and we'll all live, including the government, we'll all live with the consequences of that."
He made the comments at the Trade Union Congress conference in Brighton which voted to support coordinated campaigns.
Speaking to the BBC's political correspondent, Ross Hawkins, Mr McCluskey said: "In terms of the concept of coordinated public service workers' action, then yes I think that is very likely and very much on the cards.
"We will always stand shoulder-to-shoulder with our members. If the government have pushed us outside the law they they will have to stand the consequences."
The unions are pressing for a 5% increase for millions of nurses, teachers, council staff, civil servants and other workers.
Public-sector pay was frozen for all but the lowest earners in 2010 and increases were limited to 1% a year from 2013 as part of measures to reduce government spending.
The prime minister had come under increasing pressure from opponents and some senior figures in her own party to ditch the cap in the wake of June's snap election when she lost her parliamentary majority.
The Labour Party has warned the government must fully fund a pay increase.
It said it had calculated from figures in the House of Commons Library that three thousand police officer posts would go unless this was done.
It said constabularies across England and Wales had budgeted only for a 1% rise and an increase in line with the rate of inflation would cost forces an extra £150m.
Labour's shadow justice secretary and shadow lord chancellor, Richard Burgon, speaking on BBC Radio 4's Today programme, repeatedly refused to say whether he would back a strike called without a 50% ballot turnout, calling such a scenario, "hypothetical".
"In relation to the question of turnouts in strike ballots, what we have always been supportive of is encouraging as many people to vote as possible.
"What a Labour government would do would be to repeal the Trade Union Act which is seeking to stop trade unions from taking action to stop ordinary people... from suffering a 14% pay cut in real terms," Mr Burgon added.
Mark Serwotka, leader of the Public and Commercial Services union, made a plea for an end to pay restraint during the debate at the TUC Congress on Monday.
Mr Serwotka said PCS members, which are being balloted on industrial action, had suffered a 10% pay cut because of the cap, rising to 20% by 2020.
He said it would be "great" to have co-ordinated ballots in the run-up to the Budget.
The TUC's general secretary Frances O'Grady said coordinated action was a "last resort" if the government refused to give "people the pay rise they deserve".
Dave Prentis, the general secretary of Unison, said other action would be pursued before widespread walk outs.
"We must commit to marching, demonstrating and lobbying - not just in Westminster, but in Belfast, Cardiff and Edinburgh too.
"We need public events in every major city and town across the country to change the face of politics and hold Conservative MPs to account in their own back yards, and joint ballots for industrial action if all else fails."
Mr McCluskey said the media and "traitors within" the Labour Party had been proven wrong about the appeal of Jeremy Corbyn and his "radical policies".
He floated the idea of the Labour Party having a second deputy leader who would be a woman.
Such a suggestion has been viewed as a thinly veiled attack on the party's current deputy chief Tom Watson, who has clashed with the Unite leader in the past.