Is the UK reaching coffee shop saturation point?
By Lucy Hooker
Business reporter, BBC News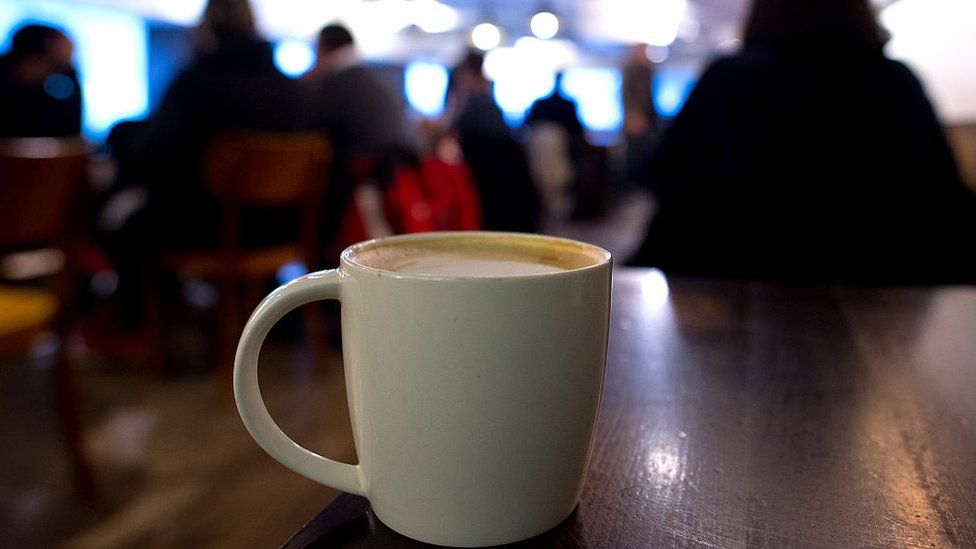 At 10am the morning rush is already over at our local Starbucks and Costa. Only Nero's has a queue, and they're all BBC staff.
Thanks to the soaring number of coffee shops on UK High Streets, you seldom have to go far for a caffeine fix.
But according to investment bank Citigroup it is time the big brands woke up and smelled the coffee.
We are about to reach saturation point for coffee shops, say analysts, with expansion stalling within five years.
Citi predicts only "four to five years structural growth remain in the UK coffee market".
In other words, in five years' time Costa won't be opening new shops at the breakneck speed of recent years. It may not be opening any at all - because we'll have enough.
On many of the UK's streets, it already feels as though there are plenty of places to pick up a pick-me-up.
Ten years ago there were fewer than 10,000 places to buy coffee in the UK and fewer than a third of those belonged to the big chains, such as Starbucks, Nero's and Costa, according to coffee market researchers Allegra.
By the end of last year there were more than 22,000 coffee shops, and branded outlets had doubled in number.
According to Allegra, we consume around 2.3 billion cups of coffee per year in stores (or around 45 cups per adult per year).
Source: The Local Data Company
Cyril Lavenant, Foodservice Director UK at the NPD Group, another market researcher, thinks we may be even closer to coffee shop maximum capacity than Citi's analysts suggest.
"Whether it will be in two, three, four or five years, we agree, the market will be saturated. There won't be much more space for shop expansion," he says.
"Already there's huge competition in the coffee market - it's not only the big coffee shops, it's everyone from fast-food to bakeries - everyone is offering coffee."
He thinks the added pressure should be concentrating minds at Starbucks, Costa and Nero HQs.
"You need to be different. You need to stand out from the crowd, make consumers feel like yours is the place to go, as frequently as possible."
He suggests cafes offering better food, or a better atmosphere, or even trendy new alternatives such as specialist waters, may end up getting the upper hand.
But not everyone agrees we're reaching peak coffee shop.
Jeffrey Young, founder of Allegra, has analysed coffee and coffee shop trends for the past twenty years. He says that, overall, there will be many more coffee shops in about five years.
"There's one fundamental driver, that's urban densities," he argues.
"This is happening all over the world. People are moving back to cities. Cities are becoming more vertical. Every office block of a certain size can support a coffee shop.
"The coffee shop becomes a social hub where people socialise, work, meet tinder dates... there are so many reasons, useful purposes for a coffee shop in addition to the desire to have a coffee."
Allegra forecasts there will be 32,000 coffee shops in the UK by 2025, and says they'll outnumber pubs by 2030.
But he also thinks the big brands need to watch out for the rise of independent coffee shops.
"The chains have work to do," he says. "They need to be on their guard."
They may have valuable property portfolios and loyal followings, but the chains could still be challenged, he says, by "artisanal craft" coffee shops offering drinks made with more sophisticated equipment, from more expensive ingredients and an atmosphere to match.