Sir James Dyson expects no Brexit deal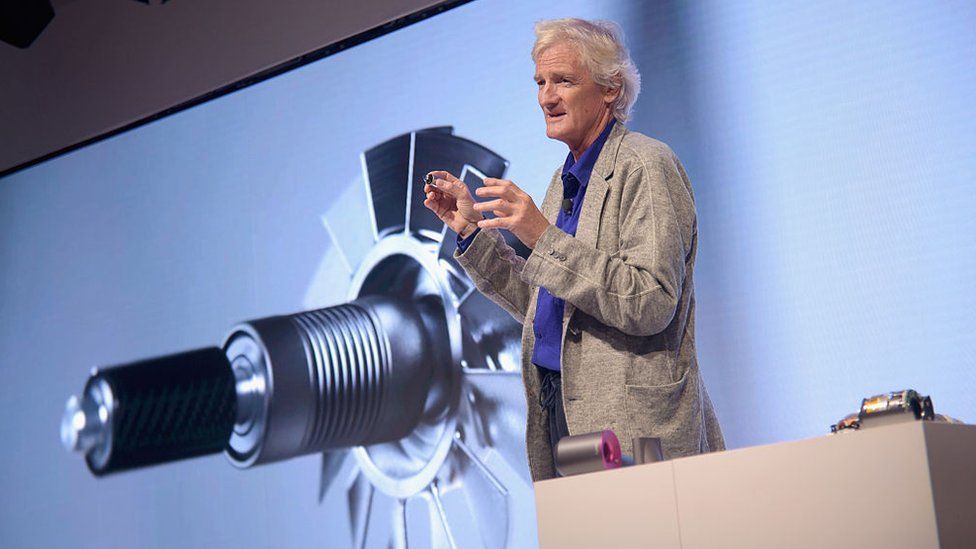 Leave campaigner Sir James Dyson expects the UK to leave the EU with no deal, and trade to default to World Trade Organization rules and tariffs.
Sir James, who founded the engineering firm Dyson, told the BBC such an arrangement would "hurt the Europeans more than the British".
However, former Bank of England chief Lord King said he was "not impressed" with preparations for failed talks.
It is "very important" the UK has a fall-back position, he said.
"I don't think the negotiations are going in the way that we might hope," he told the BBC's Newsnight programme.
"I think you need a separate team that is responsible for ensuring that if negotiations do break down... then we are capable of saying if you don't want an agreement, we are capable of leaving and trading with you under, for example, WTO terms. It's not a first preference, but we can do it."
Sir James told the BBC's Today programme that Dyson, which became famous through its innovative vacuum cleaners, already pays the WTO tariff into Europe "and it hasn't hurt us at all - we're one of the fastest growing companies in Europe".
He said UK business did not need a transitional period to separate from the European single market, saying he thought the term "single market" was "quite wrong".
"It's a series of different markets with different languages, with different marketing required and different laws.... it's actually a very highly complex and broken up market," he said.
Sir James added that "business is about uncertainty".
"There's always uncertainty in business, about exchange rates, conditions in markets, natural disasters...
"I think uncertainty is an opportunity, and the opportunity here is actually that the rest of the world is growing at a far greater rate than Europe, so the opportunity is to export to the rest of the world and to capitalise on that," he said.
However, the chairman of the John Lewis Partnership, Sir Charlie Mayfield, told the Today programme that the pound and business confidence had been hit by the Brexit vote.
"We should be under no illusions, Brexit is having an effect on the economy, no question. It's the same for everybody, and the main effects are sterling and confidence.
"Uncertainty is one of the consequences of this, and of course businesses never like uncertainty, because it makes it hard to plan for the future.
He called for "a serious parliamentary debate, to figure out what kind of Brexit we're going to have in the best interests of the country and the economy."
Sir James' comments came as 33 undergraduates began studying at the Dyson Institute of Engineering and Technology.
The student engineers have begun a four-year degree, during which they will be mentored by Dyson's scientists and engineers who will teach alongside academics from Warwick University.
Universities Minister Jo Johnson challenged Sir James 18 months ago to help train engineers in the UK.
Sir James said: "It is a great opportunity, and I think a great step forward in the way that higher education is provided.
"We're paying these people, they're getting about 40 days a year more academic time than you'd get at university, plus the fact that they're working with some of the best scientists and engineers in the world."