Traffic levels hit record high
By Richard Westcott
Transport correspondent, BBC News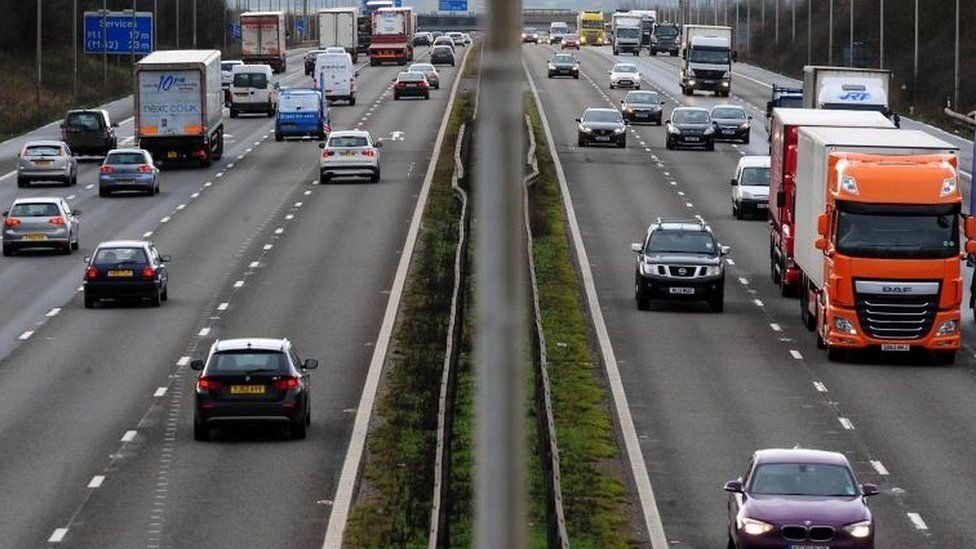 Traffic across Britain has hit record levels, according to the latest provisional statistics from the government.
The biggest rise was in vans, up 3.6% between June 2016 and June this year.
That was followed by car mileage, up 1.3% over the same period. Lorry traffic actually fell in that time, by 1.5%.
These are provisional figures collected from around 200 automatic traffic counters.
The final estimate will not come for another year, after they have added data from people manually counting by the roadside.
Britain's traffic levels actually fell between 2008 and 2012, but they have been rising ever since.
There are three likely reasons. First, the economy has been growing which normally means people drive more.
The population has also been rising, meaning more people own vehicles, and fuel has been getting cheaper.
The government has highlighted statistics that illustrate the trends.
Over the four years since 2013, UK GDP has risen by 9.3%. The population has gone up by an estimated 3% and the price of petrol has fallen by 14.6%.
Over the same period, traffic has increased by 7.7%.
To get the most interesting figures though, you need to transport yourself back 20 years.
Since that time, car mileage has risen by 12.6%. Lorry traffic has gone up by 0.5%. And van traffic has risen by some 69.7%.
So does this data put an end to the idea that we have reached "peak car"? That is, as the name suggests, the theory that our car use has hit a plateau.
Frankly, I am not qualified to answer that, but it is interesting to see how vehicle mileage has bounced back after the recession.