Fashion firms focus on social media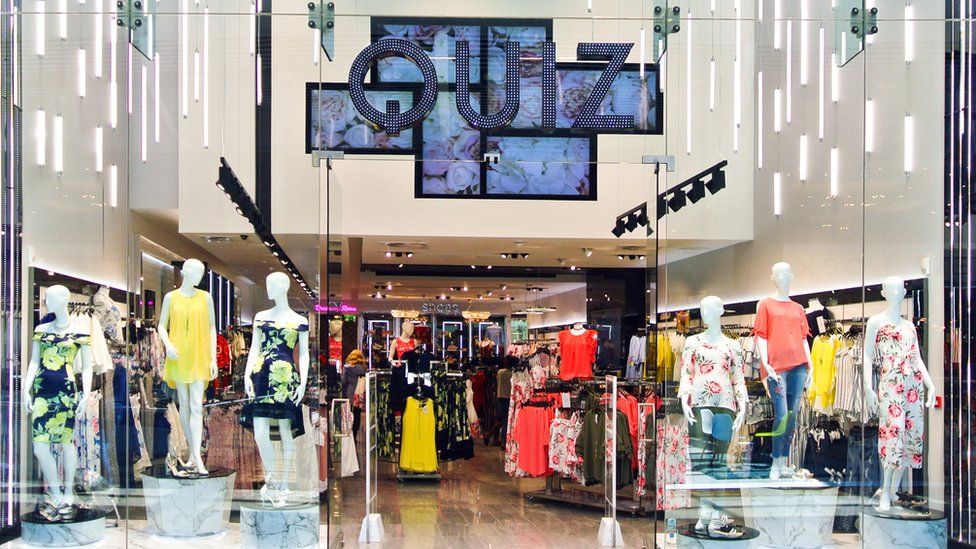 Speed of reaction to social media trends is becoming more important in the battle between fast fashion and more established High Street retailers, say experts.
Young women are increasingly being influenced by what they see on apps such as Instagram, as well as by celebrities.
Fast fashion brands are jumping on these trends.
But High Street retailers say they are upping their game to compete.
The fashion industry is important to the UK economy. It supports 880,000 jobs, and contributes £28bn to GDP.
And for five days from Friday, the fashion world descends on the capital for London Fashion Week, which showcases British fashion and global brands.
Topshop's global marketing director Sheena Sauvaire told the BBC's Today programme that while the concoctions on the catwalk influence High Street retail design, social media is increasingly playing a role.
"The thing right now in fashion is it's not just runway that's inspiring those trends, trends are bubbling up on the streets.
"Street style will also inspire trends, so really it's become a melting pot of inspiration."
Just as social media is inspiring designers, it is also influencing young women in making style choices, she says.
"That's been the big shift... this inclusivity that social media brings, and the diversity. Girls want to see girls who look like them, that they can relate to wearing fashion, as opposed to those images that have been driven through print fashion magazines for many years."
Disruptive fashion firms, which quickly jump on trends, have recognised this and are gaining ground against High Street retailers.
Pink Boutique, one of the fastest growing fashion brands, says it takes design inspiration from sources including social media, says Dan Arden, the firm's chief commercial officer.
"There was... a saying that was trending over social media over recent months which was 'U OK hun?'," says Dan Arden, the firm's chief commercial officer.
"We were able to very quickly get that into slogan T-shirts - I think we turned that around in three days, and we were able to get that selling and online very quickly."
How quickly a brand can get a product through its supply chain directly correlates with sales, he adds.
The fashion industry is evolving. In the past year, nearly seven out of 10 women have bought clothes online.
This year online fashion sales increased to 24% of total fashion spend, up from 17% in 2013.
Quiz Clothing defines itself as an "ultra-fast" fashion firm. Based in Glasgow, it recently floated on the AIM stock exchange, valuing the company at £200m.
Chief commercial officer Sheraz Ramzan says the firm has grown from "a couple of stores in Scotland to what is now over 300 outlets trading in over 20 countries".
"We've always been a fast fashion brand, and I think now that the buzzword that we're hearing is that we are an 'ultra-fast' fashion brand, and we've developed a very slick supply chain to allow the brand to react very quickly to fashion trends."
So where does that leave bricks and mortar retailers? Have they been swept aside by this tsunami of fast fashion - or are they OK hun?
Richard Cristofoli, marketing director at Debenhams, isn't fazed: "Retail generally has always been fast moving, and critically it's a multi-channel business, not just a High Street business.
"So Debenhams today - over a fifth of our sales are online, and increasingly people are blending the channels - they are shopping online, collecting in store, or browsing in store, and shopping on their phones.
"We see it as a very fluid and dynamic place to be, but undoubtedly it is challenging."
Topshop is another retailer that is finding the line between online and physical shopping is getting blurred.
Ms Sauvaire says: "We know from insight that pretty much anyone now that's coming into our store, she's been on our site already.
She said people see trends on social media, browse online, then go into a physical store to try on clothes.
And it's this blurring of the lines that represents a real opportunity for established retailers, she says.
"If we can knit together the online experience with the physical experience, get to better know our customer and give her personalised choices, the right product at the right time, that's going to be the winning place for retail."
And how to do this? Through technology that is still in development, she says.
Meanwhile, the battle between fast fashion and the High Street continues.
"It keeps us on our toes. Fierce competition, nimble, agile competition is what they are, and it means that you really interrogate your business and your operating model, and who you're for as well," Ms Sauvaire says.