Wall Street closes week at record highs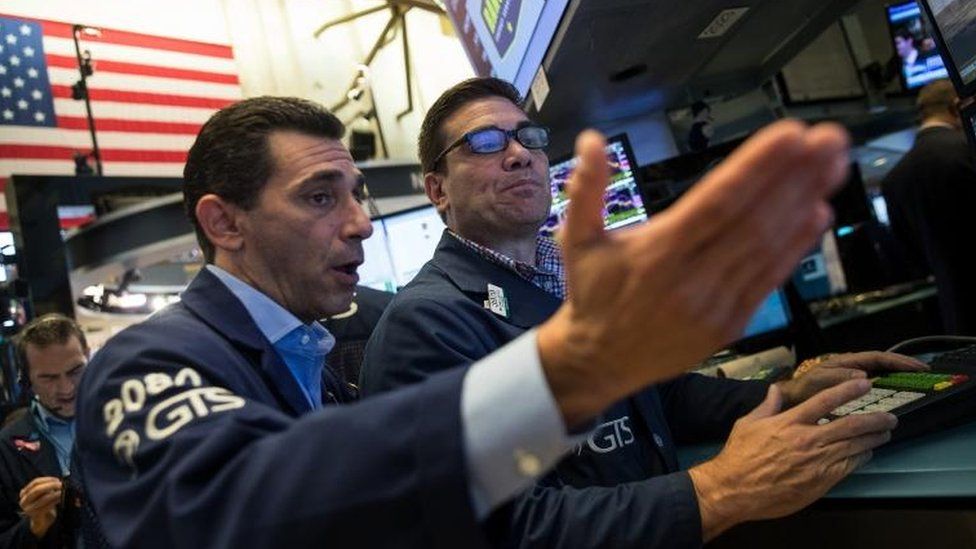 US markets climbed to new records on Friday, shrugging off weak economic data that was attributed to recent hurricanes.
The rally came despite another missile test by North Korea and a terrorist attack in London, extending Wall Street's remarkable rise this year.
Gains at Boeing, Verizon and Apple contributed to Friday's increase, with most sectors ending the day higher.
The Dow Jones increased 64.86 points or 0.3% to close at 22,268.34.
The three major stock indexes have advanced steadily this year, gains analysts say are backed by strong corporate earnings and an improving global economy.
The Nasdaq is up more than 18% since the start of the year, with the S&P 500 up 12% and the Dow ahead 10%.
Shares in Apple helped buoy the index on Friday, rising 1% after having slid for several days.
Boeing increased by 1.5%, while telecommunications giant Verizon gained 1.4%, a day after it presented its growth plans to investors.
The gains come despite mixed economic data.
The Commerce Department on Friday said US retail sales fell 0.2% in August and were lower in June and July than previously estimated.
In a separate report, the Federal Reserve said industrial production dropped 0.9% in the month, the biggest decline since 2009.
Analysts blamed the numbers on disruption from Hurricane Harvey, which hit Texas in the last week of August.
Though the retail sales report was weaker than expected, the underlying trends remain strong, said Gus Faucher, chief economist at PNC Bank.
"Overall, consumers remain in good shape, despite the ups and downs that will be in the data in the months ahead," Mr Faucher said.
Car sales fell 1.6% last month, the biggest fall since January, which was put partly down to Harvey. Analysts are predicting a future boost in auto sales from buyers whose cars were flooded.
Online sales fell by 1.1% - the steepest monthly fall since 2014 - sending shares in e-commerce giant Amazon down by 0.55%.
But total retail sales were up 3.2% year-on-year and online retail sales grew by 8.4% year-on-year, the Commerce Department said.