Why are grown-ups embracing children's fashions?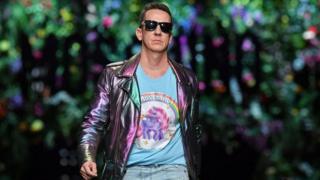 The fashion industry is experiencing a revolution, with mermaids, unicorns, sparkles and vintage toys now all the rage in High Street fashion shops.
Products once considered to be "too childish" or alternative for women to wear are now increasingly popular.
Moschino has just launched its My Little Pony collection for Spring/Summer 2018 at Milan Fashion Week.
But the trend has led to renewed debate among consumers about whether wearing such fashion items is a sign of immaturity.
A new social phenomenon is arising on Instagram, whereby young women have become the key influencers for their friendship circles and communities.
Social trends
Users now regularly post photos of their outfits on Instagram, together with a full run-down of what they are wearing and where they got it from.
If someone has a unique and unusual item, others covet it.
To ensure that more people see the outfit shot posts, users include hashtags for different styles and tag the small businesses they purchased the item from.
This helps other consumers find the product, as well as providing free publicity for independent brands.
Over time, these trends grow on social networks, often without ever receiving mainstream media coverage.
Relatable fashion
Now, some of these fashion trends are making their way into the mainstream - whether it's seashell bags, pink heart chokers, sparkly rubber phone cases, pastel jackets, comfortable boat-like shoes called "creepers", fluffy neon fur tops or colourful see-through backpacks.
"People just want something they can relate to," says Rosanna Mackney, the creative director of Dreamy Bows, a UK retailer of Japanese fashion.
"If you see a model in a magazine, you know they've had styling and a makeup artist to do it for them, but if you see someone's Instagram account, you know that they achieved that look by themselves, so you know it's a lot more realistic that you can achieve the look yourself."
Merchandise depicting vintage toys like My Little Pony and Polly Pocket have also seen a revival amongst fashionistas on Instagram.
Apart from Moschino, American independent makeup brand Lime Crime recently launched a line of eyeshadow palettes inspired by 1990s Polly Pocket playsets.
Lime Crime founder Doe Deere says that her beauty brand wants customers to be unapologetically expressive: "Our customers create the trends - they inspire us daily.
"Women have been told a lot of things [about what they should wear], but thankfully the fashion and beauty industries are populated with innovators and change-makers who don't give much thought to the rules."
'Be adult'
Yet many think that childlike items should be best left in childhood.
"You may like bright and vibrant colours. That is perfectly fine. But you are not a little girl. You are an adult woman, and there is pride in being an adult women," Racked.com's Jennifer Wright implores in a critique of the 2017 summer fashion trends.
"Please don't latch onto the fantasy world of mermaids and unicorns and whatever other bits of girlish nostalgia is being marketed to you.
"None of those things are real. Now, more than ever, we need to be present in the real world that's unfolding. The world needs adult women, desperately."
Financial crisis
Ruth Brain, 27, an alternative fashion YouTube vlogger from Edinburgh known online as "Princess Peachie", has been collecting vintage toys since 2005.
Ms Brain who has 59,000 YouTube subscribers and 12,000 Instagram followers says that while her hobby was judged as being "weird" 12 years ago, nowadays young women feel more comfortable expressing themselves openly.
"Those of us who grew up through the late 1980s to early 2000s are all kind of withdrawing to that carefree, happier feeling," she says.
"Which for us was before the point we finished high school and got tossed into a financial crisis."
"But also we're all kind of realising that 'growing up' isn't really related to aesthetic.
"It's related to your intelligence, wisdom and emotional maturity - so if you're wearing My Little Ponies on your sweatshirt or Care Bears on your socks, none of that really matters in the grand scheme of things, as long as it makes you smile," says Ms Brain.
Fashion rebels
Rosanna Mackney also disagrees that wearing colourful, cute fashion items is a sign of immaturity.
"It's a rebellion against what society and high fashion thinks women should dress like," she says.
"Mature, understated elegance, muted colours - lots of people don't want to conform to this, and sometimes we just want to wear cute and colourful things that express all sides of our personalities."
But perhaps times are changing, and the so-called "rules" governing a woman's perceived maturity are being turned on their head.
"Fashion today is becoming more young and fun - it's kind of like they're branching out for the 'weird kid'," says Jessica Ayton, 27, an alternative fashion blogger from West Yorkshire with 5,000 followers on Instagram.
"The cutesy fashion, we're allowed to embrace it now."