Firms are 'wasting potential' of a fifth of workers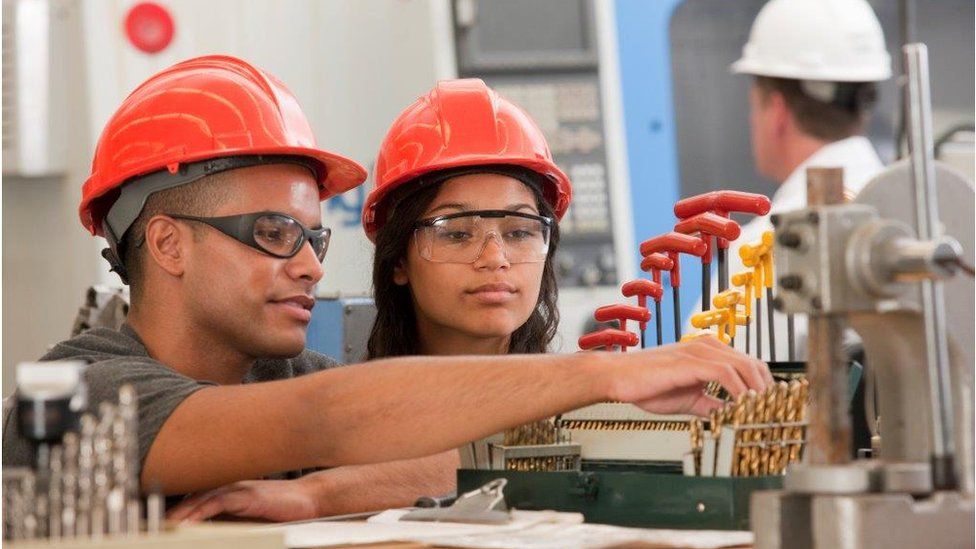 UK businesses are failing to invest in their workforces and new technology, relying on cheap labour instead, according to a think tank report.
As a result, the potential of the bottom 20% of the workforce is being "wasted", the Centre for Social Justice says.
It is one cause of the UK's "sluggish" productivity growth, it says.
The report is backed by former Work and Pensions Minister Iain Duncan Smith who founded the CSJ.
It argues that the lack of investment and neglect of vocational training in schools have prevented workers "often from disadvantaged backgrounds making the most of their natural abilities".
"The education system is failing a majority of disadvantaged students, many of whom are not reaching the basic level of attainment at GCSE level, and... there are too few alternative routes through education and into employment for school leavers today," the report says.
Its authors are calling for firms to make a "step-change" in their levels of investment in training and technology in order to kick-start productivity growth.
The report is also backed by several members of the business community and the economist Gerard Lyons, who advised Boris Johnson as London Mayor.
Mr Lyons told the BBC's Today programme: "In the UK we've got a great position on employment, it's high, unemployment is very low, but what we need to do is get the productivity side up.
"What this report really highlights is companies don't invest enough, we're not innovating enough. It also highlights a big regional divide.
"It also calls for inclusive productivity growth, so all the people even at low incomes can really benefit."
Professor Alison Wolf, of Kings College London said: "The authors are absolutely right to highlight the country's shameful neglect of vocational education, and the extent to which businesses have, in recent decades, walked away from training their workers.
"However, it is hard to say how much this explains recent low productivity growth.
"Better vocational training is enormously desirable, but it wouldn't be a magic bullet, any more than our huge expansion in graduate numbers has been."
Mr Duncan Smith, a prominent supporter of Brexit, also argued that immigration had contributed to the UK's productivity problem.
"The arrival of cheap labour en-masse has been damaging to the UK economy's long-term prospects," he said.
There is some some disagreement over what impact immigration has on the economy and on conditions for existing workers. But Prof Wolf said an influx of foreign workers could be undermining productivity growth in some cases.
"What is clear is that in some industries, most notably construction, the ready availability of skilled labour from the EU has been very important in reducing employers' involvement in [and] spending on training," she said.
An apprenticeship levy launched by George Osborne came into effect this year, requiring businesses over a certain size to create apprenticeships in return for funding.
The government has also pledged to introduce a new form of vocational education in schools in the form of "T-levels".
Lord Knight, schools minister under the Labour government between 2006 and 2009, welcomed the report's focus on technical training, but said it was not just businesses and schools that needed to be doing more.
"Government needs to do an awful lot better and urgently," he said.
"Many employers are doing their best. What I don't see is enough coherence and enough investment from government itself in adult skills generally and in a coherent offer in schools in developing the whole person rather than just the academic person."
He added: "Young people are forced into a narrower diet in the curriculum at the expense of the more creative, technical and applied parts of the curriculum.
"Design and technology which is a really important skill for economy has had a 43% fall in those taking it to GCSE in last six years."