Ryanair faces 20m euro compensation bill over cancellations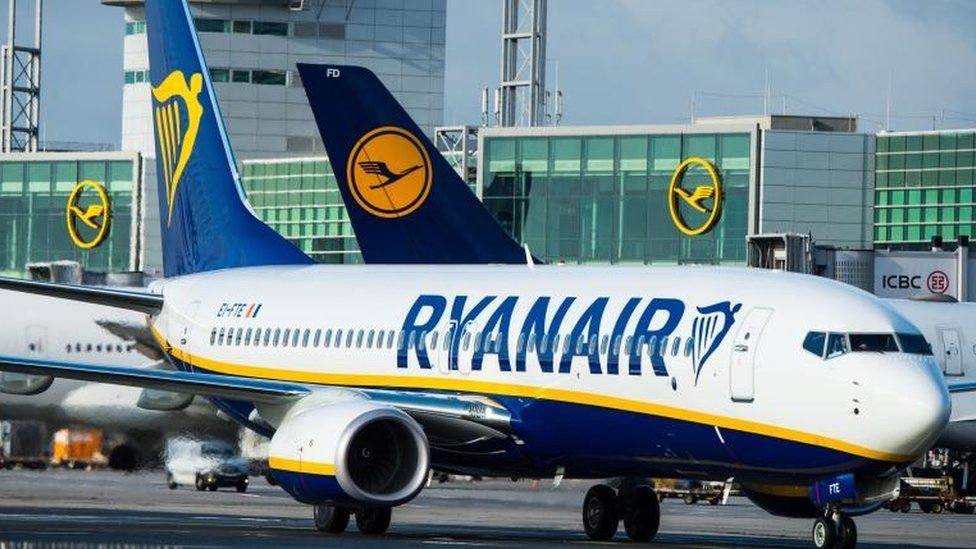 Ryanair could face up to 20m euros (£18m) in compensation claims after cancelling thousands of flights due to a shortage of pilots, it has warned.
The budget airline plans to cancel 40-50 flights every day for the next six weeks, after it admitted it had "messed up" the planning of pilot holidays.
An internal memo seen by the BBC suggests the pilot shortage could continue until the end of the year.
There is no suggestion this means the disruption will extend beyond October.
In a letter to pilots, chief operations officer Michael Hickey said the firm's crewing forecast to the end of December was "for tighter pilot numbers".
The letter shows Ryanair pilots were only informed on 13 September of the staff shortage facing the company yet Mr Hickey outlined that it knew last year they may face a leave backlog.
Pilots have been asked to work during their booked holiday to cover the gaps and their rota pattern is also likely to be disrupted.
In the letter, Mr Hickey said these pilots would be "helping protect the integrity of the operation during the remainder of the flight year".
Ryanair also faces pressure to publish a full list of the flights it plans to cancel every day amid growing anger among customers.
So far it has only published a list of affected flights up until Wednesday.
Consumer rights group Which? said: "It's essential that Ryanair release a full list of flights that will be affected so that passengers have as much time as possible to make alternate arrangements."
The airline has blamed a backlog of staff leave for the disruption, which could affect up to 400,000 passengers.
Ryanair is changing its holiday year, which currently runs from April to March, to run from January to December instead.
This has led to large numbers of its staff taking holidays in September and October.
Reports on Monday also suggested recruitment problems were affecting the airline and that it had lost pilots to rival Norwegian Air.
A Norwegian spokesperson said: "We can confirm that 140 pilots have joined us from Ryanair this year. Pilot recruitment is also underway for more pilots for our new Dublin base opening later this year."
The airline has promised affected customers alternative flights or refunds. However, many have reacted angrily to the cancellations on social media and called for a full list of affected flights to be released.
Karen Higgins tweeted: "Yet another day of constant checking to see if our flights are safe or cancelled! Cmon @Ryanair help us all out! Get the updates done!!!!"
Dee Moloney tweeted: "Have 2 trips booked in the next couple of weeks. Excitement of trips now replaced with worry!... Won't be flying with @Ryanair again."
Shares in Ryanair were down 2% on Monday afternoon.
What rights do passengers have?
The EU compensation rules for cancelled flights are as follows:
Passengers are entitled to assistance and compensation, if the disruption was within an airline's control.
Airlines have to offer full refunds, paid within seven days, or rebookings for a flight cancelled at short notice.
In addition, passengers can also claim compensation.
Cancellation amounts are: 250 euros (£218) for short-haul, 440 euros (£384) for medium-haul and 600 euros (£523) for long-haul.
Passengers who reach their destination more than three hours late can be compensated from 200 to 600 euros, depending on the length of flights and delay.