Ryanair: What should I do if my flight is cancelled?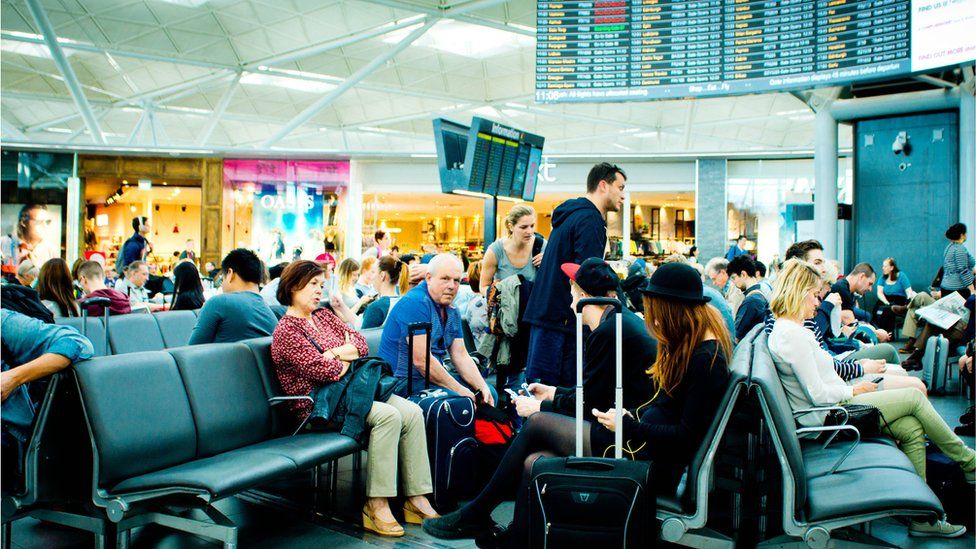 Ryanair has said it will co-operate with the Civil Aviation Authority (CAA) to ensure passengers are aware of their rights when flights are cancelled.
The CAA's chief executive Andrew Haines said he was "furious" that the airline had not been complying with the law - by failing to offer to re-route passengers on rival airlines.
Ryanair cancelled up to 50 flights a day through to the end of October, affecting 315,000 passengers
It then cancelled another 18,000 flights between November and March, affecting the travel plans of another 400,000 passengers.
All of Ryanair's flights are short or medium-haul, and the vast majority are to destinations within the EU, meaning that passengers are entitled to some very specific rules on compensation.
What are my options if my flight is cancelled?
You can apply for a refund. Even if it is only the outbound portion of the flight that is cancelled, you can still get a refund for the return leg, assuming you do not want to use it.
Or you can chose an alternative flight - perhaps on an earlier or later date. In most cases Ryanair will offer you another flight with them.
However, the Civil Aviation Authority (CAA) says that if Ryanair fails to offer a place on an alternative Ryanair flight within a reasonable timeframe then you have the right to be booked onto a different airline at no extra cost.
Should I get a refund and arrange my own alternative flight?
You are free to do this, but you will then lose out on any right to compensation, and probably be out of pocket as the alternative flight is likely to be more expensive by now.
Consumer group Which? says that it is best to make Ryanair do the legwork - rather than cancel the Ryanair flight, rebook yourself on another airline, and try to reclaim any extra cost from Ryanair if the new flight is more expensive. By doing so, you might only get a refund for the cancelled Ryanair flight.
I don't know whether my flight has been cancelled: What should I do?
If you decide to cancel or change your flight without knowing whether it will be cancelled officially, you have no special rights under the European Regulations.
For that reason, the CAA advises passengers to go through the airline.
Can I claim extra compensation for the inconvenience?
You can claim compensation - but it is based strictly on the time of your actual arrival compared to when you originally expected to arrive.
It also depends on when Ryanair told you about the cancellation. In the first wave of cancellations, many passengers were given less than a week's warning, so would have been entitled to compensation under EU rules, even if they were then found a flight with another airline.
If the airline gave you more than 14 days' notice, it does not have to pay any compensation at all.
As more than two weeks' notice has been given for the November to March cancellations, affected passengers will not be entitled to the extra compensation.
What if I have received less than 14 days' notice?
If your re-booked flight arrives more than four hours later than the flight you were originally booked on, you can claim 250 euros - around £220.
For flights over 1,500km, known as medium-haul, that goes up to 400 euros - around £350.
However, if the new flight re-routes you via another destination, and you end up with a longer flight as a result - you can still claim compensation, but at a lower rate.
If you are flying on a short-haul flight, and the re-routed flight is at least two hours late, you can claim 125 euros - around £110.
If a medium-haul re-routed flight is at least three hours late, you can claim 200 euros - around £176 - depending on the time of take-off.
What if I have received less than seven days' notice?
If you receive less than a week's notice of the cancellation, the criteria for compensation are tighter.
In this case, your short-haul flight only needs to arrive more than two hours after your original scheduled arrival time for you to claim 250 euros.
If flying more than 1,500km, and the flight is at least three hours late, you can claim 400 euros.
If a new short-haul flight is re-routed, taking off more than one hour before your original flight, but arriving two hours after it, you can claim 125 euros.
A re-routed medium-haul flight needs to arrive at least three hours late for compensation to be paid. In such a case passengers would get 200 euros.
Am I entitled to additional help?
If you find yourself stranded at the airport, you might also be entitled to an extra payment to cover short-term costs.
For example, if you have had to wait an extra day to take the new flight you should be given accommodation, food, drink and access to communications - such as the cost of a couple of telephone calls.