Mark Carney says rate rises will be gradual and limited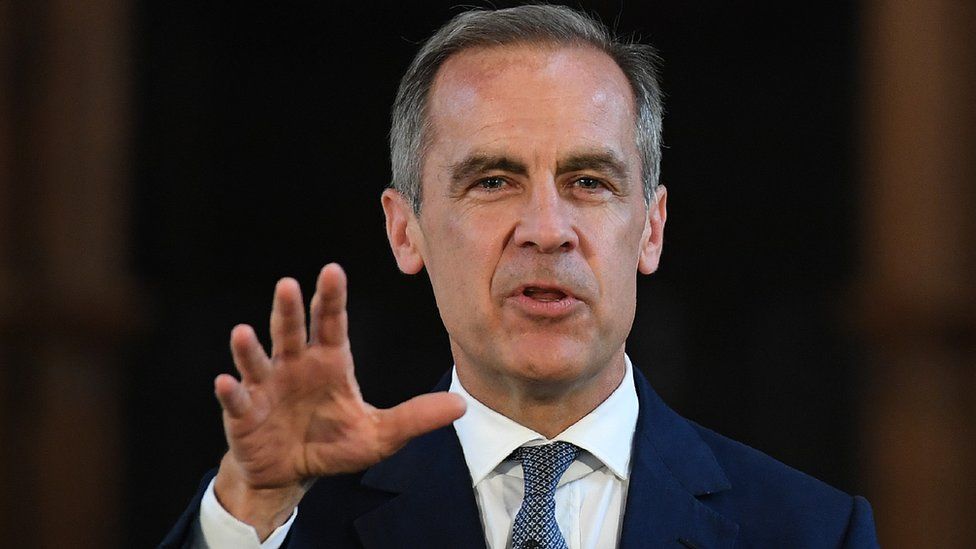 Any increases in UK interest rates in the coming months will be "gradual" and "limited", Mark Carney has said.
The Bank of England governor said that "some withdrawal of monetary stimulus is likely to be appropriate over the coming months" to help return inflation to its 2% target.
It is likely to stay above 2% for the next three years, Mr Carney said.
The governor made the comments in a speech to the International Monetary Fund in Washington DC on Monday.
The Bank's Monetary Policy Committee last week gave a strong hint that the UK's first rate rise in a decade was nearing, despite the uncertainty surrounding Brexit.
Until last week, most economists had expected the Bank to wait until later next year or even 2019 before raising rates.
In contrast, the US Federal Reserve continues to raise borrowing costs and the European Central Bank is also expected to start reducing stimulus measures for the eurozone.
Brexit represented a "real shock" about which monetary policy "can do little", Mr Carney warned and added that there remains "considerable risks" to the outlook for the UK economy.
While it would not be able to prevent the fall in real incomes likely to result from the new trading arrangements with the European Union, he said monetary policy could influence how this hit to incomes is distributed between job losses and price rises.
Although households initially ignored Brexit-related uncertainties in the wake of the vote to leave the EU, the consequences of the slide in sterling was now resulting in higher prices and a squeeze on pockets, Mr Carney said.
That had prompted consumers to "cut back on spending, slowing the economy," he said.
Businesses had also invested much less aggressively, and these twin effects had caused economic growth to slow in the first half of the year.
"Brexit-related uncertainties are causing some companies to delay decisions about building capacity and entering new markets.
"Prolonged low investment will restrain growth in the capital stock and increases in productivity," the governor said.
Mr Carney said the biggest influence on the UK's prosperity in the medium-term would be its new relationship with the EU.
"Many of the adjustments needed to move to that new equilibrium are real in nature, and are not in the gift of monetary policymakers," he said.
"But monetary policy can help build the foundations for lasting prosperity by achieving the inflation target in a way that helps smooth real adjustment in the economy and supports jobs in the wake of very large external forces."