US markets rise ahead of Fed meeting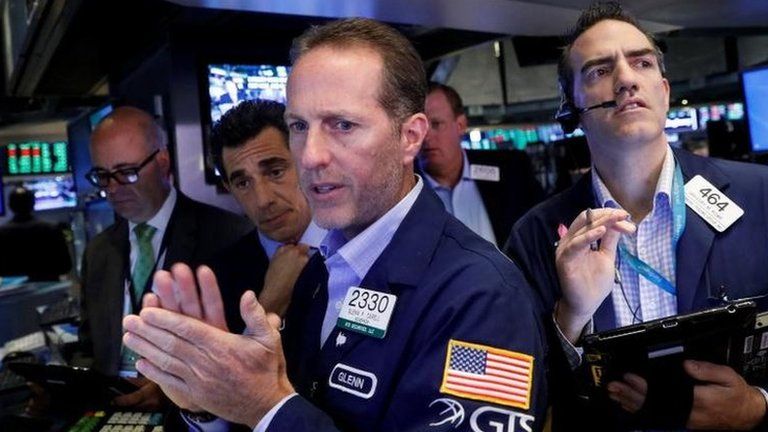 US markets continued to rise on Tuesday, lifted by telecommunication and financial companies.
Reports that a merger between Sprint Corp and T Mobile US may be in the offing helped boost shares.
Investors are also trying to anticipate decisions by the Federal reserve at its latest two-day meeting, which ends on Wednesday.
The Dow Jones rose 39.45 points or 0.18% to 22,370.8.
Investors expect Fed policymakers to offer more details about its plan to trim its bond holdings.
They will also be keeping an eye on whether the Fed gives any clues as to the timing of future interest rate rises.
Banks, which tend to benefit from rate increases, were among the winners on Tuesday, with JPMorgan Chase & Co rising 1.1% and Bank of America closing up 0.65%.
Takeovers helped drive other gains.
Shares in frozen meals maker Bob Evans Farms rose 6.1% after Post Holdings, which makes Honey Bunches of Oats and Grape-Nuts cereals, agreed to buy the firm for $1.5bn. Shares in Post Holdings edged up 0.6%.
Sprint shares jumped by more than 6% after the merger reports, while T Mobile stock closed up nearly 5.9%.
Not all stocks were winners.
Best Buy Co fell by 8% after the company updated its long term earnings forecast, which projected more limited growth than analysts had expected.