What's behind the Tata-Thyssenkrupp merger?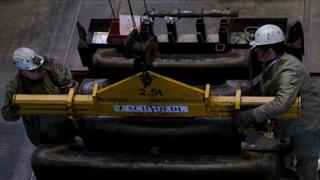 The merger between India's Tata Steel and Germany's Thyssenkrupp will create Europe's second-largest steel maker, behind only ArcelorMittal.
It comes against the backdrop of consolidation in the steel sector in Europe - an industry that has increasingly been plagued by low prices and overcapacity - partially because of excess supply from Chinese steelmakers.
In the heydays of the European steel industry, mergers and acquisitions were a way for companies to make money and expand their operations.
Indeed, that was one of the main reasons why Tata Steel bought British firm Corus back in 2007 - a story I covered at the time - and one that marked the Indian group's foray into the international markets.
What a difference a decade makes. In the last 10 years, the commodity boom has petered out and, up until recently, shown no signs of a revival.
Seeking a remedy
But global steel prices are slowly but surely picking up. Some Chinese firms have been cutting their supply to the market, and since June of this year, there's been a small rise in the price of steel as a result.
So merging operations makes sense: fewer companies in the market doing the same thing means less competition, and, in theory, better prices.
Mergers are also a way to lower costs, but this means some job losses, which both companies have said they will share.
It's not clear, though, whether these sorts of mergers will be the remedy the steel industry is looking for.
One of the main problems is that steel factories are expensive to run. That means that when they're not being used, or they are underused, steel producers may sell their steel at lower prices to offload their excess supply - and that could push prices down again.