HTC shares suspended on Google takeover rumours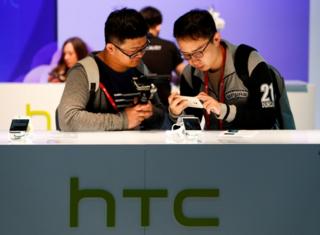 Shares in the Taiwanese smartphone firm HTC will be suspended from trading on Thursday amid rumours Google's parent Alphabet is planning a takeover.
The company issued a statement in response to a report in the China Times, and a request from the Taiwanese Stock Exchange.
It said said it "does not comment on market rumour or speculation".
HTC was once a major player in the smartphone market but has struggled to compete with Apple and Samsung.
Last month there was speculation that HTC was planning to sell its virtual reality unit, Vive, or even the whole company.
Five years ago, HTC was the world's fourth bestselling smartphone maker with a market share of about 9%.
Its share is now less than 1%.
Some analysts have questioned why Alphabet would be interested in buying another mobile phone maker.
Deal benefits
In 2011, Alphabet (then named Google) bought Motorola's Mobility for $12.5bn, only to sell it on three years later.
But a deal with HTC could have greater benefits, as HTC builds Alphabet's own smartphone, the Pixel.
The Pixel uses Android operating software, developed by Alphabet, so the deal could integrate hardware and software, which might be an attractive option.
The deal would also be small change to Alphabet which has around $100bn of cash.
Ben Wood, technology analyst at CCS Insight, said he was a little perplexed by the idea: "After previously having the disastrous acquisition of Motorola, to plunge in with both feet to buy another looks very challenging.
"However, it could also be a sign of a step up in Google's intentions to be a smartphone maker. It would give it a platform to demonstrate the art of the possible with Android. Against that though, it puts it on a collision course with its own Android-buying customers, notably Samsung."
HTC's shares ended Wednesday's session 2.5% higher. The company is worth £1.4bn ($1.9bn).
Analysis, Leo Kelion, technology desk editor
A Google takeover of at least part of HTC's business has been rumoured for some time.
The Taiwanese firm made the first ever Android handset - the Dream - and is rumoured to be the manufacturer of one of the US firm's Pixel 2 models, which is likely to be announced next month.
But Google has already struggled to integrate one phone-maker, Motorola Mobility, and it's not clear why it would want to repeat the experience.
Yes, HTC has proven itself capable of developing unusual features - such as the squeeze-to-take-photos design of its recent U11 - but it has repeatedly failed to launch a bestseller. And does Google really want to own HTC's factories at a time when others, including Apple, are happy to outsource production?