Visitor numbers to UK hit record in July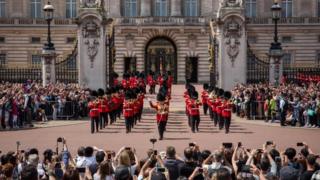 The number of overseas visitors to the UK topped four million in July for the first time, official figures show.
Travellers to the UK spent £2.75bn on their visits, the Office for National Statistics (ONS) said, another record.
The figures also show the number of visits abroad by UK residents fell 2% from July last year to 6.9 million, with spending also down 2% to £4.5bn.
The weakening of the pound since the Brexit vote has made prices in the UK cheaper for travellers from abroad.
However, Patricia Yates, from tourist promotion agency VisitBritain, said the pound was a only small part of the story: "We know the weak pound helps, but it is not the motivator for first time visitors - most people overseas do not know what the exchange rate is."
So far this year, the number of overseas visits to the UK are up 8% on the same period last year, with spending running at £13.3bn.
The ONS says tourism is worth £127bn annually to the UK economy.
Here is a breakdown of where tourists to the UK come from:
Europe - 15.1 million, up 4% on last year
North America - 2.9 million, up 21% on last year
Rest of World, China, Australia, India, the Gulf - 3.6 million, up 18% on last year
Ms Yates said an improvement in airline capacity, particularly between the UK and China and the UK and North America had helped to encourage visitors.
"The US has been sluggish for a while - so some of it is bounce back, but some of it is because of the more competitive nature of transatlantic traffic," she said.
"We have also been building a buzz with [online travel website] Expedia, trying to encourage interest in places they may not have considered before."
Tourism Minister John Glen said: "Tourism is a major economic force that creates jobs and drives growth for the whole of the country.
"These record figures show the continued strength of this important sector and the UK's global position as a must-visit destination."
Top five visitor attractions in UK and annual visit numbers:
British Museum - 6.4 million
National Gallery -6.3 million
Tate Modern - 5.8 million
Natural History Museum - 4.6 million
Southbank Centre - 3.9 million