Monarch airline awaits package holiday licence decision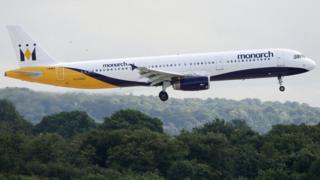 Monarch is in last-ditch talks with the aviation regulator about renewing its licence to sell package holidays.
The Civil Aviation Authority (CAA) extended Monarch's licence by 24 hours on Saturday amid uncertainty about the company's future.
However, with the deadline now passed, the regulator has yet to announce a decision on what it means for the UK's fifth biggest airline.
About 10,000 people on holidays sold by the airline are thought to be abroad.
The CAA is understood to have contingency plans in place to bring those passengers home on other airlines if Monarch faces difficulties.
Monarch had until midnight on Sunday to reach a deal with the CAA - but neither the company nor the CAA have issued updates since then.
If the regulator decides not to renew its package holiday licence, consumer confidence in Monarch's scheduled airline operations could also be undermined.
Package holidays accounted for a fraction of the 6.3 million passengers Monarch carried last year to 40 destinations from Gatwick, Luton, Birmingham, Leeds-Bradford and Manchester airports.
Atol protection
The government's Atol scheme refunds customers if a travel firm collapses and ensures they are not stranded.
The agreement with the CAA on Saturday means package holidays bought from Monarch on Sunday are still Atol protected.
Monarch's owner, Greybull Capital, has been trying to sell part or all of its short-haul operation so it can focus on more profitable long-haul routes.
The airline reported a loss of £291m for the year to October 2016, compared with a profit of £27m for the previous 12 months, after revenues slumped.
Monarch, founded in 1968, is made up of a scheduled airline, tour operator and an engineering division. In total it employs about 2,500 people.
The company said its flights are operating as normal, and that it continues to work on plans to resolve its future.
---
Analysis: Monarch faces a 'perfect storm'
By Joe Lynam, BBC business correspondent
Monarch has experienced the perfect storm of challenges in recent years.
The terror attacks in Turkey and Egypt have deprived the airline of a large chunk of its annual revenues, and forced it to compete on heavily congested traditional routes to Spain and Greece.
That has forced down prices and profits on top of weaker demand from UK travellers - for whom a less valuable pound has made travelling costlier.
Monarch will not be facing the winter with much confidence.
The short-haul market has been described as "horrendous" by senior aviation industry figures. It has already resulted in the collapse of Air Berlin and placed huge pressure on other airlines.
Put simply, there are too many seats and not enough bums to put on them to make a profit for all major carriers.
---
Are you currently abroad with Monarch or planning to travel soon? E-mail us at haveyoursay@bbc.co.uk
You can also contact us in the following ways: