Trump-Thailand talks: What to expect?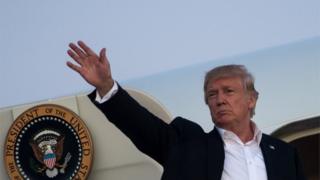 You know those awkward dinner parties when the two people you didn't invite are all anyone can talk about?
Well, imagine for a moment the conversation between Thailand's Prime Minister, Prayuth Chan-ocha, and the US President Donald Trump.
It is likely to be dominated by two countries that have preoccupied President Trump's brain space (and his social media feed) of late: North Korea and China.
But there are other things on the agenda - trade and defence ties for instance are likely to be discussed as well.
Here's what I think President Trump will be focused on talking to the Thai leader about:
Trade
When Prime Minister Prayuth meets President Trump he will get to see first hand what the "America First" trade policy really means.
President Trump has pulled out of the Trans Pacific Partnership trade deal - a deal that Thailand was very close to signing.
This White House administration has been very clear about its feelings with regards to the trade deficit between Thailand and the US - it wants the gap narrowed.
The US had a $19bn trade deficit in 2016 with Thailand, but the Thai Commerce Ministry has been keen to point out that is only 1.5% of the US's overall trade deficit, and is based on structural issues and not due to unfair trade policies.
Bangkok will be keen to show that it's playing by President Trump's new rules on global trade and not be named a currency manipulator.
But analysts have told me that it's likely the president's rhetoric on trade may well be a way for him to pressure General Prayuth to take a harder line on North Korea.
North Korea sanctions
US officials, like Secretary of State Rex Tillerson, have already pressured Thailand to cut funding to North Korea.
Bangkok is home to a North Korean embassy, which many experts believe is a way for Pyongyang to earn foreign revenue. Thailand was also one of the main suppliers of goods to North Korea in 2015.
Bilateral trade has dropped substantially since then - by almost 90%, according to Thai officials. But, reportedly, many North Korean businesses still operate out of the country - although not in any significant fashion and certainly not in any way that would flout sanctions.
It doesn't do Bangkok any favours to keep trading with North Korea in light of President Trump's aggressive stance on the issue, so it's likely that General Prayuth will be happy to provide the US with the diplomatic support President Trump is looking for - whether he can deliver on clamping down on illicit businesses will be another matter however.
Chinese investments
What the General won't be able to provide is any assurances to the US that Bangkok won't move closer to Beijing. While the US counts Thailand as its oldest treaty ally in South-East Asia, relations turned colder under the previous Obama administration.
The Thai military's coup in 2014 was frowned upon by Washington and as a result, as author Benjamin Zawacki points out in this piece: "The US suspended military assistance, cancelled a series of visits and downgraded its level of engagement."
The US is also lagging behind China in terms of investments in Thailand. Beijing is courting Bangkok with the One Belt One Road initiative, and they are working on a $5bn rail link connecting China to a number of South East Asian countries - including Thailand.
Against this backdrop it's hard to see how President Trump will follow his predecessor's lead in trying to get General Prayuth to account for a realistic timetable for free and fair elections in Thailand, and to restore democracy in the country.
Realpolitik wins again.