Milwaukee Bucks aim to bounce back on and off NBA court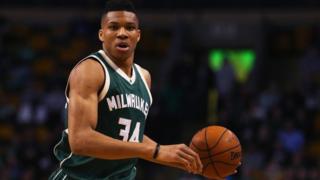 What has historically made Milwaukee famous has been its beer and its motorcycles, but now NBA basketball side, the Bucks, is also hoping to fly the flag for the US city.
Although the team situated on the western shore of Lake Michigan has picked up just one NBA national title, in 1971, in its 50th season it is now hoping to transform its fortunes.
The club has wealthy owners in the shape of New York hedge fund billionaires, and has one of the top young players in Giannis Antetokounmpo.
It has also signed a groundbreaking shirt sponsorship deal with Harley-Davidson, and as the current regular season gets under way it is moving into a new stadium.
As well as being specifically designed for basketball and offering a better fan experience, the Wisconsin Entertainment and Sports Center stadium will also host music and entertainment events.
And the playing season has got off to a bright start, with victory in the opening game over Boston Celtics.
Championship dream
"Our aims are sporting and financial," Bucks president Peter Feigin, who has previously worked in the theme park and executive jet industries, tells me.
"Our owners are very motivated about the team winning on the court, and also about growing the business to be one of the best in US sport."
At present the club is closer to breaking-even financially rather than making a profit, but it is hoped playing success can bring wider brand exposure and enhanced commercial revenues.
Meanwhile, the new venue where the club will be the main leaseholder will also bring in increased match day income through executive boxes and improved catering.
The team has high hopes for the season ahead.
"There are four rounds of play-offs, we got to the first round last year and the expectation is to go at least one round better this time," says Mr Feigin, a former head of marketing for the New York Knicks NBA team.
"It is achievable - we are in the Eastern Division, which is not as strong as the Western Division, and if we are healthy for the season and have no injuries we will do great."
He adds: "We are in these games to win a championship; it is all directed towards ultimately winning a championship."
'International appeal'
Central to any playing success is up-and-coming star Giannis Antetokounmpo, a 22-year-old born in Athens to Nigerian immigrant parents.
"We have the most-emerging star in the NBA, he is already in the top seven of uniform sales, and had tens of millions of video views," says Mr Feigin. "He has gone from 'recognised' to superstar in less than 12 months.
"We have been able to grow our European appeal and our Asian appeal via Giannis."
And the potentially exciting nature of the team has seen the Bucks double the number of live TV games they will be involved in this season, from nine to 18.
"That will be big for us not only on viewing impressions, but big for the brand too," adds Mr Feigin, who prior to joining the Bucks three years ago worked for Six Flags Theme Parks in the US.
He was also previously president and chief operating officer of Marquis Jet, where he was the driving force behind Warren Buffett and Berkshire Hathaway's NetJets acquisition of Marquis in 2010.
Mr Feigin says Milwaukee as at a city is at an "inflection point" between its industrial heritage past and a newly-modernised future, something which also applies to its shirt sponsors for the next three years - local motorbike brand Harley-Davidson.
"Harley are trying to reposition themselves for the next generations, and the NBA can help them do that," he says. "They want to reach a young, diverse, more international market."
Public funding
Mr Feigin has been in London this month meeting to publicise the new stadium, pitching it as "a must-play for sports and entertainment" which will host 200 major events a year.
The $524m (£395m) arena is a public-private partnership, with just over half the cash coming from hedge-fund club owners Marc Lasry, Wes Edens and Jamie Dinan, as well as $250m in public funding.
"It was very challenging to get this approved; especially at at time when there have been questions about the economy, and debates around healthcare and education," admits Mr Feigin.
"But a professional sports team can bring in much more than the stadium outlay, through income tax and sales tax."
He says in return for that $250m outlay, the venue will help bring in more than $1bn over 15 years for the state.
"The stadium will also create a ripple effect in increasing nearby commercial and residential values," he adds.
Bucks season-ticket holders and members will be offered deals on entertainment tickets. Conversely, it's hoped music fans will enjoy the stadium experience enough to come back for a Bucks game.
Naming rights
Building work began on the new stadium last June, with the club due to move into its new home on Labor Day weekend next year - the first weekend of September.
"The current venue was not built around basketball as the lead sport, but for ice hockey," says Raj Saha, the arena's general manager, and formerly on the management team of the O2 in London.
"The viewing sight lines where we currently play are not ideal for basketball," says Mr Saha, with only one third of the seats close to the action.
The club is looking for six to eight long-term founding commercial partners for the new stadium, paying around $2m a year. Those who have signed up include multi-industrial firm Johnson Controls and bank BMO Harris.
The search is on for a stadium naming rights partner, which would pay about $7m a year for 20 years.
"We are still looking for a naming rights partner. We would have loved to have finalised it by now but are in negotiations with a number of potential partners," says Mr Saha.
As well as music acts, the arena will also host attractions such as UFC martial arts, boxing, Disney on Ice, and other events.
"We have an idea of how the first four weeks will look," says Mr Saha.
"Opening night is important and we'll go big for that, but the first 100 days will also be very important, too, to creating a success story."