What's the economic impact of a Korean conflict?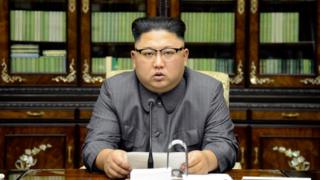 The World Bank's latest economic outlook for East Asia and Pacific shows growth is broadly positive, emerging economies will do well and China is a bit of a risk. Textbook stuff.
However, there was one thing that stood out to me - the bank's analysis of what would happen to the region's economies if real conflict broke out on the Korean peninsula.
Because East Asia is so central to global shipping and manufacturing, any escalation of the current tensions could disrupt trade and economic activity.
One example would be an increase in insurance costs for ships moving cargo in and out of the region.
There would also be a flight to "safe havens" - although the bank doesn't specify this, it is usually things like gold and the Japanese yen.
Which means everything else is likely to suffer, including emerging market currencies. And of course, weaker local currencies tend to put a dampener on both consumer and corporate spending, as well as make US-denominated debts in the region much harder to pay off.
A report earlier this week by ratings agency Moody's helps round out the picture: South Korea would, of course, feel the impact of any active conflict from North Korea.
But Vietnam and Japan's economies are also very exposed.
Yen boost
Moody's says a conflict would cause growth to slow "markedly", and it's easy to see why. Really, it's because the big exporters in Japan would feel it the most. There would be a disruption in supply chains, which would hurt their profits.
And if investors are buying the Japanese yen as a safe haven - that will push the yen up, making Japanese goods more expensive overseas, again hurting exporters. All of this could hurt the recent stabilisation in government debt.
South Korea is Vietnam's second largest trading partner after China. Any conflict would see a loss of exports to South Korea.
Given that the country's debt burden is pretty high (52% of GDP in 2016), the Vietnamese government may not be able to buffer the economic shock that would bring.
And how about the US and China? Well, according to Moody's, they will have some short-term exposure, but longer-term, the implications would be relatively limited for them.
A possible reason, perhaps, behind the US president's apparent bravado when dealing with the Kim Jong-un regime.