Lord Sugar says women must be more assertive over pay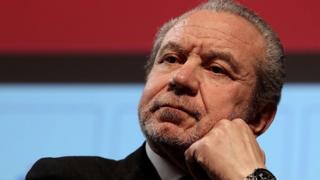 Lord Sugar has said women at the BBC and other employers should push for higher pay if they earn less than men.
The businessman said the gender pay gap "can be narrowed by the lady herself saying, 'No, I want more money'".
The Apprentice host also said it was "disgraceful" the BBC was forced to publish the pay of its top earners.
He said it was wrong to release the figures to "start the debate that 'Charlie earns this, and Celia only gets that, but she does the same job.'"
In July, the BBC revealed two-thirds of its stars earning more than £150,000 are male, and faced calls from high-profile female personalities to deal with the gender pay gap.
Referring to that gap, Lord Sugar said in an interview with the Press Association: "Her agent should come along and say, 'Hold on, I know how much Charlie's being paid and I want more for my lady to do it.'
"If the BBC, or ITV, or Channel 4, or Channel 5 say, 'Nah, not really,' then, tough. She'll have to decide what she wants to be paid."
'Private issue'
Lord Sugar, who returns with The Apprentice on BBC One on Wednesday, said he did not think transparency over pay was the "correct thing".
"It's a private issue and I think it's disgraceful, actually, that the BBC were forced to publish what people were earning," he said.
On Wednesday, the BBC disclosed that men working for the corporation earn an average of 9.3% more than women.
The audit covered rank-and-file BBC staff rather than on-air presenters and senior managers.
The figure compares with a UK average of 18% and BBC director general Tony Hall said it showed the BBC was "in a better place than many organisations".
Earlier this week, it emerged that the vast majority of companies required to publish their gender pay gaps by April 2018 had not done so yet.
A government adviser on equal pay was criticised in July when he suggested female staff at the BBC let the pay gap happen "because they weren't doing much about it".
Businessman Sir Philip Hampton told the Evening Standard newspaper in London that in contrast to men, he had "never, ever had a woman ask for a pay rise".