By the book: Christmas hardback avalanche arrives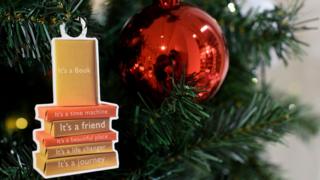 It has been one of the most important weeks in the UK's book publishing calendar - a time when an avalanche of titles hit the shops in time for the Christmas market.
On a single day - what has become known in the trade as "Super Thursday" - 505 books were released.
This year, dystopian fiction, and books about Donald Trump and Brexit have been popular themes.
Thursday, however, saw an array of lighter fare released, including books by baking supremo Mary Berry and comedian Tim Minchin.
There was plenty of serious stuff as well, though, such as a new novel by Booker Prize-winning Alan Hollinghurst.
And later this month Philip Pullman will publish the first of his new Book of Dust trilogy, the follow up to the hugely successful His Dark Materials series and actor Tom Hanks makes his debut in print.
The period between the first Thursday of October to 24 December is crucial for publishers and book retailers.
Last year, shoppers bought 66 million books worth £588m in the run-up to Christmas, according to Nielsen BookScan.
It appears the UK has fallen well and truly back in love with the printed word.
In 2015, the Publishers Association found that sales of physical books bucked a four-year trend of declines to rise while digital sales recorded their first ever fall.
That trend was cemented in 2016, when physical sales rose by 8% to £3bn, the highest since 2012, while demand for ebooks shrank by 3%.
Meryl Halls, head of membership at the Booksellers Association, thinks that "customers want the physical item. They want something gorgeous because gifting is a very important part of the book trade, especially at Christmas time."
But she also believes books represent an antidote to time spend looking at our smartphones.
"Everyone spends a lot of time on screen and I think particularly for kids, parents want to see children's books as something their kids are doing that isn't about being on screen," Ms Halls says.
It has been a hard slog for book shops in recent years, as they fight off not just the ebook challenge but the online retail behemoth that is Amazon.
Andrew Franklin, founder of Profile Publishers, says Amazon is able to offer "absurd discounts" because its size means it can afford to lose money on books.
"Amazon has put a lot of pressure on everybody because they've pushed down prices, they're hyper competitive, they're tough negotiators," he says. "So the relationship between publishers and independent booksellers and Waterstones became even more important - but things are settling down a bit now."
Ms Halls says that the European Commission's decision on Wednesday to order Amazon to repay €250m in back taxes to Luxembourg is "really important" because it sends a signal that the EU cares about physical bookshops.
And events such as National Bookshop Day on Saturday remind shoppers of the pleasure of buying books.
Mr Franklin adds: "Publishers have worked really hard with book shops to make the books look better. I think we're going through a golden age of book design: the covers are fantastic."
Hard to buy for
While there is plenty of hardback fiction being released in time for 25 December from the likes of crime writer PD James, a new legal thriller by John Grisham and Charles Dickens' perennial favourite A Christmas Carol, it really is the season for non-fiction.
Ms Halls says that while sales of fiction typically quadruple between Super Thursday and Christmas Eve, there is eight times more demand for non-fiction hardbacks.
These kind of books make good gifts, she says, especially for people you might not know so well or who are difficult to buy for.
Then there is the question of the stocking stuffer. Titles such as the Ladybird series or Five Go Famous Five for adults series by Bruno Vincent are "nice little books", says Mr Franklin. "They're fun and you can talk about them when you open them."
But perhaps most importantly of all: "They don't tear the stocking when you put them in. They're the right size."