Hurricanes take their toll on US jobs market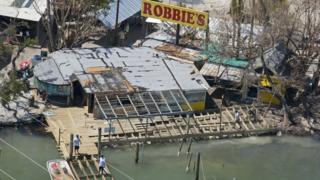 US employment fell in September for the first time since 2010 as hurricanes Harvey and Irma took their toll on the jobs market.
The Labor Department said 33,000 jobs were lost amid a record drop in employment in the leisure and hospitality sector.
It blamed the two storms, which struck Texas and Florida in late August and early September, for the slide.
Economists had expected a rise of 90,000 jobs last month.
However, Harvey and Irma did not affect the unemployment rate, which slipped to 4.2% - the lowest since February 2001.
The US Labor Department uses separate surveys to capture payrolls data and the unemployment rate.
Economists said the discrepancy between the two September reports suggests the jobs decline does not indicate a long-term trend.
Gus Faucher, chief economist at PNC Financial Services said: "Although the headline number for September is loss of jobs, the first in seven years, the labour market remains in good shape."
The strongest job gains last month came in health care and the transportation and warehousing industries.
But employment in the leisure and hospitality sector shrank significantly, while job figures in many other industries, including construction and government, were largely unchanged.
The US has been experiencing one of the longest stretches of job creation in its history, with the economy adding a monthly average of more than 170,000 over the past year.
Economists have said that pace is unsustainable and predicted it would slow. But the wage gains they said should accompany tightening in the labour market have been elusive.
The September report showed that average hourly earnings rose 0.5% from August and have now risen 2.9% over the past 12 months.
ThinkMarkets analyst Naeem Aslam said the earnings figure showed "that job market slack is fading".
Others said the figure was likely to have been skewed by the unusual hurricane-related job decline in the low-wage food industry.
Rate moves
Even if wage inflation is weaker than the report suggests, economists said they did not see anything in the September report to dissuade the Federal Reserve from raising interest rates before the end of the year, as expected.
Ian Shepherdson of Pantheon Macroeconomics said: "Unemployment is what matters, and this report therefore makes a December rate hike even more likely."
Revised jobs estimates for July and August showed US employers added 38,000 fewer jobs than previously reported.
But Mr Shepherson said he expects recovery to begin in October, with a bigger rebound in November.