Top Ryanair executive leaves after pilot scheduling fiasco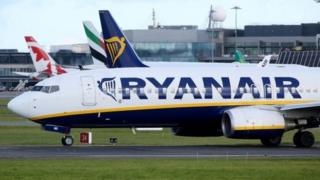 Embattled low-cost airline Ryanair said its chief operations officer will depart the company at the end of the month.
Michael Hickey will be the first executive to leave the company after a rostering error led to the cancellation of thousands of flights.
In his role, Mr Hickey was responsible for scheduling shifts for pilots.
Chief executive Michael O'Leary earlier faced calls to resign over his handling of the mishap.
Mr O'Leary on Friday said Mr Hickey "will be a hard act to replace".
Scheduling fiasco
Ryanair announced its first wave of 2,100 cancellations in the middle of September, after it rearranged pilots' rosters to comply with new aviation rules requiring a change in how their flying hours are logged.
Towards the end of September it announced 18,000 further flights would be cancelled over the winter season. These moves affect more than 700,000 passengers.
In the airline's first wave of cancellations Ryanair offered affected passengers a £40 voucher per cancelled flight as a way to say sorry.
This was short of European rules governing flight cancellations and passenger rights, and Ryanair was eventually forced to bow to regulator demands and spell out the options on offer to affected passengers.