Cord-cutting fears drag Wall Street down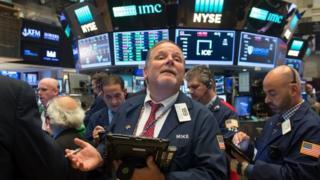 Television stocks dragged Wall Street lower on Thursday, after AT&T's update of its subscriber figures renewed fears that people were abandoning cable.
AT&T said it lost 90,000 subscribers in the quarter, while 300,000 people switched to its cheaper service.
The Dow Jones Industrial Average fell 31.88 points or 0.14% to 22,841.01, and the wider S&P 500 index slipped 4.31 points or 0.17% to 2,550.93.
The tech-focused Nasdaq index dropped 12.04 points or 0.18% to 6,591.51.
Telecommunications stocks led the declines, falling by more than 3.5%.
Shares in AT&T fell by 6.1%. The firm also told investors that recent hurricanes in the US would likely lead to about $210m in losses.
Walt Disney was among the biggest losers on the Dow, down 1.6%, while Verizon fell more than 1%.
Financial stocks were also lower. Both JP Morgan Chase and Citigroup reported higher third quarter profits, despite being hit by a drop in bond trading revenues.
Both banks ended the day with declines. JP Morgan shares were down by 0.88%, while Citigroup lost 3.43%.