Goldman Sachs results beat forecasts despite bond trading hit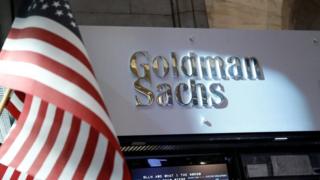 US banking giant Goldman Sachs has reported a fall in third-quarter profits following a further fall in bond trading revenue.
However, the 26% drop in bond trading revenue was smaller than expected, following a slump of 40% in the second quarter.
Goldman's net income for the quarter fell by 3% from a year earlier to $2.04bn (£1.55bn).
Rival Morgan Stanley posted a stronger-than-expected rise in profits.
Net income rose 11% to $1.69bn in the third quarter, helped by record revenues in its wealth management division which offset the decline in trading activity.
"Our third quarter results reflected the stability our wealth management, investment banking and investment management businesses bring when our sales and trading business faces a subdued environment," said Morgan Stanley chief executive James Gorman.
'Not so bad'
Goldman's bond-trading division has seen three consecutive quarters of declines as a result of low volatility in the market for trading fixed income, commodities and currencies.
However, Oppenheimer analyst Chris Kotowski said: "After two quarters in a row severely missing Wall Street's bond trading estimates, Goldman's 26% decline did not look so bad.
"While we did not see a sharp rebound in (bond) trading, one can, at a minimum, say that this quarter Goldman looked pretty much like everyone else."
Goldman's bond trading results were of particular interest because it is more dependent on trading than rivals and it does not have a significant retail operation to offset recent declines.
The bank's better-than-expected overall results were also fuelled by its performance in private equity investments and from higher fees that it earned through dealmaking.