How wide is Aldi and Lidl's appeal among the better off?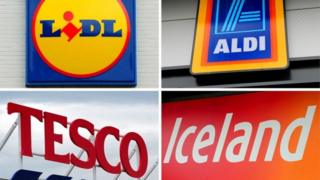 It is well known that it is not only those on a tight budget that shop at the discount stores Aldi and Lidl.
But a survey suggests a huge number of the better heeled have also been browsing the aisles and may have a product from at least one of them lurking in their larders and fridges.
Retail researchers Mintel have found that 77% of households earning £50,000 or more have bought from the stores.
That is a higher proportion than UK shoppers on much lower incomes.
Among those with a household income of less than £15,500, 73% use discounters, according to Mintel.
News of further cost cuts late on Tuesday from Sainsbury's underline the impact the discounters have had on the UK's grocery market.
The UK's second-biggest supermarket chain said the market was "changing at a rapid pace" and meant the firm needed to "transform the way we operate".
Discounters are the only companies whose market share is growing.
Figures on Tuesday from Kantar Worldpanel, show Lidl and Aldi now account for 12% of the food market.
Their sales continue to increase rapidly, with growth well into double digits.
By comparison, Morrisons, the fastest growing among the rest of the established chains, increased sales by 2.8%.
German companies Aldi and Lidl have been in the UK since the 1990s, but their growth spurt really took off in the years following the credit crunch 10 years ago.
They now have more than 600 stores each across the country.
Price war
However, the discounters, too, are finding profits harder to grow than sales.
Aldi reported record sales in the UK and Ireland for last year, but its profits have fallen sharply amid a fierce price war among supermarkets.
Its latest sales were up 13.5% to £8.7bn in 2016, but operating profit dropped 17%.
Initially their appeal lay in price, and, perhaps novelty, but Mintel's survey also gathered shoppers' views on quality.
It says among shoppers that use Lidl and Aldi, 71% say it is as good as elsewhere, although their premium ranges do not rank as highly. Two thirds rate these as matching those on offer at rival supermarkets.
Nick Carroll, senior research analyst at Mintel, said: "The post-recession success of leading discount food retailers has been built on a softening of their hard discount roots and bringing in ranges which appeal to a wider variety of consumers.
"A part of this success has been the introduction of more premium ranges, something that is clearly going over well with shoppers."