Dow Jones index eases back from 23,000 milestone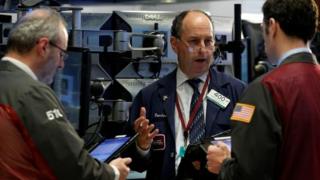 The Dow Jones Industrial Average rose above 23,000 points for the first time on Tuesday, but finished the day slightly below the milestone.
The benchmark US share index closed at 22,997.44 - a rise of 0.2% - having earlier hit a new record of 23,002.20.
It was boosted by gains for healthcare firm UnitedHealth and drugs maker Johnson & Johnson, after the companies raised their profit forecasts.
UnitedHealth shares rose 5.6% while Johnson & Johnson stock was 3% higher.
The Dow Jones, which tracks 30 of the biggest US listed companies, has hit new records several times over the last month on expectations of strong company profits and hopes that President Trump will win backing for his tax cut plan.
The wider S&P 500 index edged up 1 point to 2,559, while the tech-rich Nasdaq index finished flat at 6,624.
All three indexes closed at record highs on Monday.
Away from the healthcare sector, US bank Goldman Sachs was the biggest faller on Tuesday after reporting a 3% drop in quarterly profit.
Goldman Sachs shares fell nearly 2.5%, while its rival, Morgan Stanley rose 0.3% after posting a stronger-than-expected rise in profits.
Streaming service Netflix dropped by 1.6%, despite adding more subscribers than expected and reporting quarterly profits more than doubled to $129m (£98m).