Dow Jones closes above 23,000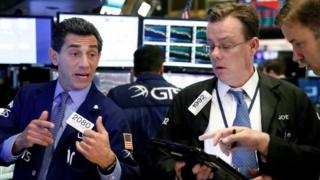 The Dow Jones Industrial Average hit a new record high on Wednesday climbing 160.16 points to 23,157.6.
It came a day after the index broke through the 23,000 level for the first time, although it fell back to close below the milestone.
Also on Wednesday, the wider S&P 500 index edged up 1.9 points to reach 2,561.26.
Meanwhile, the tech-rich Nasdaq index rose just one point to 6,624.22.
The Dow Jones, which tracks 30 of the biggest US listed companies, has hit new records several times over the last month on expectations of strong company profits and hopes that President Donald Trump will win backing for his tax cut plan.
Its latest surge was fuelled by IBM, which added 8% after reporting third-quarter earnings that beat analysts' expectations, even though its profits for the period fell 4% to $2.7bn.
Ian Winer, head of equities at Wedbush Securities, said the fresh record highs were driven by investors not wanting to miss out.
"With each headline about a new record, and especially round numbers like that, people tend to feel like they're missing out and you kind of suck more people into the market," he said.